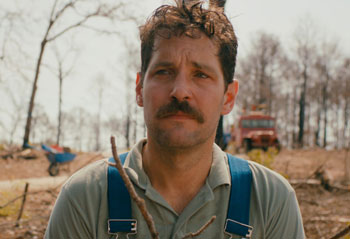 For A-list actors like Paul Rudd, they often have the luxury of a multiple takes on a big budget film. However, once they step onto the set of an indie film or one with a small budget, their acting methods often have to change.
In a recent interview with the Wall Street Journal, Rudd opened up about the challenges of filming Prince Avalanche with co-star Emile Hirsch and Director David Gordon Green. The comedy is set in 1988 and features two highway road workers who head to the isolated countryside away from their city lifestyle. The change of scenery brings up conflict between each other and the women they left behind.
With just 16 days to shoot the film, Rudd certainly had to get into character from the first shot. He explained to WSJ about those limitations.
"It's challenging in that you want to get everything and you don't have that much time, and especially because of the way the whole thing is, if we had some impulse to shoot something or wanted to go down a road, we had the freedom to do it but we didn't have the luxury of spending too much time doing it. Simultaneously, it adds an urgency and energy to what you're doing that I think is good," said the 44-year-old actor.
For some actors a short shooting schedule might be too much, but Rudd handled the time crunch rather well.
He shared, "The pace of it was great. It was also easier because we were in the same location the whole time, so that made it easier."
Having only one location had some beneficial advantages, according to the This Is 40 star.
He continued, "Another benefit of having it be in one location is we were able to do it for the most part in sequence, which is never the case when you work on a movie because your schedule is always dictated by what location you can secure at what time. A lot of times you're filming the last scenes of films before you're even shooting the opening. So, to be able to go in order made it easier and we were able to add things and change things because we knew what had preceded it."
That two-week shooting schedule also did not allow for Rudd to rehearse with Hirsch before the cameras began to roll. Their on-screen relationship was vital to the story, so the two had to make it work right away.
Rudd revealed, "I didn't know Emile before this. I met him literally the day before we started shooting. We didn't have rehearsals really. So these characters are getting to know each other through the course of the film, and so were Emile and I in life. I think on some level that comes across."
Prince Avalanche will be released nationwide on Sept. 19.