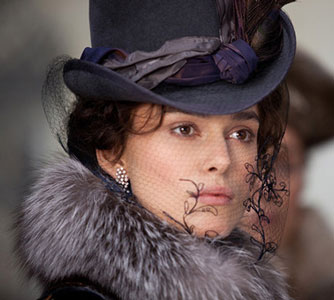 There's always risk involved when adapting a famous novel for the screen—especially when it's been done before.  But Keira Knightley insists the new version of Leo Tolstoy's Anna Karenina brings something new to the table, mainly the actress' own take on the role.
"I think within the pages of the book, it's so massively open to different interpretations anyway, and partly because he does write from inside her head, but often he doesn't.  Often he writes from outside, judging her and describing her," Knightley said in an interview with NBC New York.  "And I think because of that judgment and that description, it means that there are lots of different interpretations. 
"When I first read it when I was 19, I only remember her being innocent—I don't remember judging her at all; I don't remember seeing her as being in any way guilty.  And I read it again last year before we started shooting, and when I see this at 26 because I was, I suddenly see this differently." Read more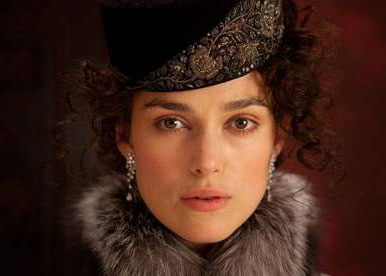 Keira Knightley, star of the new adaptation of Tolstoy's Anna Karenina, knew she wanted to be an actress from an early age.
"I've been acting since I was six," Knightley said in an interview with NY Daily News.  "My mum was an actor and a writer.  My dad was an actor.  It was a very intoxicating thing growing up around creatives like them.  My mum would be off acting somewhere, so I'd be backstage with my dad, doing homework, and he'd be onstage.  I always wanted to be part of that."
The actress broke through with her role in 2002's Bend It Like Beckham when she was 16.  She had already finished high school, and wanted to take tests to go to college.  "I was trying to balance school and work and found that I couldn't handle it," Knightley said.  "I had to admit defeat.  And I hate admitting defeat.  But I knew that the space for you in this business only comes around once.  You have to jump in when it's offered." Read more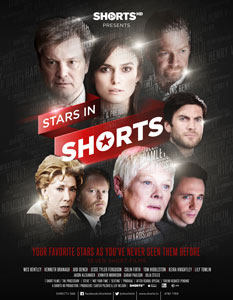 Director: Robert Festinger, Rupert Friend, Jay Kamen, Neil LaBute, Benjamin Grayson, Jacob Chase, Chris Foggin
Cast: Lily Tomlin, Jesse Tyler Ferguson, Colin Firth, Keira Knightley, Jason Alexander, Val Pettiford, Julia Stiles, Marin Ireland, Kenneth Branagh, Jennifer Morrison, Sarah Paulson, Wes Bentley, Judi Dench, Penny Ryder
Synopsis: ShortsHD presents STARS IN SHORTS, an incredible collection of short movies featuring some of the biggest actors such as Colin Firth & Keira Knightley, Judi Dench, Jason Alexander, Lilly Tomlin, Jesse Tyler Ferguson, Julia Stiles & others.
In Theaters: September 28th 
VOD: October 9th Read more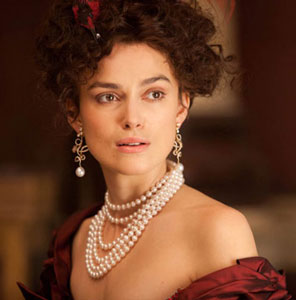 It might surprise you that Keira Knightley, who just won the role of the female lead in Paramount's new Jack Ryan film (opposite Chris Pine), used to suffer from anxiety while filming.
In other words, she had some serious stage fright.
To get rid of it, she started to do more work of the characters she played. That, and also acting on stage. She recently starred in The Children's Hour with Elizabeth Moss. 
The actress told Daily Mail that, "It's easier for me now, and even if I do freeze I know how to deal with it."
Audiences will get to see how convincing Oscar-nominee Knightley is when Anna Karenina is released November 16.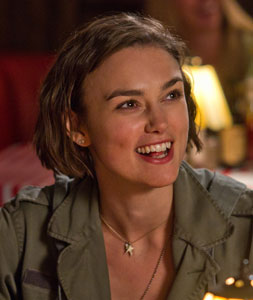 Keira Knightley earned Academy Award and Golden Globe Award nominations for her portrayal of Elizabeth Bennet in Joe Wright's version of Pride & Prejudice, based on Jane Austen's novel, also for Focus Features. Two years later, she was a Golden Globe and BAFTA Award nominee for her performance as Cecilia Tallis in Atonement, again directed by Joe Wright and for Focus Features, based on the novel by Ian McEwan. In the fall of 2012, she stars in the title role of Anna Karenina, reuniting with Mr. Wright and Focus, based on the novel by Leo Tolstoy and adapted by Academy Award winner Tom Stoppard.
The U.K. native made her television debut at the age of 6 in the telefilm Royal Celebration, directed by Ferdinand Fairfax. Her subsequent television credits included such telefilms and miniseries as The Treasure Seekers, directed by Juliet May; Coming Home, directed by Giles Foster; Oliver Twist; Doctor Zhivago, directed by Giacomo Campiotti; and Princess of Thieves, directed by Peter Hewitt, starring as Robin Hood's daughter. Ms. Knightley landed her first feature film role at the age of 10, in Patrick Dewolf's Innocent Lies. She then starred in Nick Hamm's The Hole, with Thora Birch, and Gillies MacKinnon's Pure; and appeared alongside Natalie Portman in George Lucas' Star Wars: Episode I – The Phantom Menace. Read more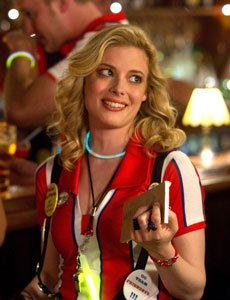 Gillian Jacobs had to forget her inhibitions for her cameo in the new indie Seeking a Friend at the End of the World. The actress, who also plays Britta on NBC's Community, plays a waitress who becomes involved in a end-of-the-world kissing fest… ok, orgy. 
She told Vulture, "The first few takes were far too polite.  It's funny, because as an actor, you know what you're supposed to do, despite your natural shyness—but to kiss all these people in rapid succession was a kick in the ass.   I didn't have a lot of time to do it, so [director] Lorene [Scafaria] was like, 'Now, please.  Not in two hours.'  I had to swallow my pride and do it.  I had kissed a girl in the second season of Community, but that was my first time kissing a girl ever, and I was so nervous, I almost knocked Brit Marling's teeth out.  So this time, I didn't maul Keira Knightley, but I had to just go for it.  It was kind of an out-of-body experience—you know, when you find yourself doing something you haven't done in your life." Read more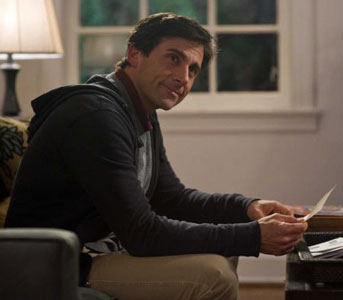 Looks like Steve Carell is steering away from light comedy.
The former Office star is starring in the dark comedy Seeking A Friend for the End of the World.  In an interview with Reuters, he said, "I thought the script was oddly funny and dark and absurd, but also moving and relevant.  I thought it would be very challenging to try and mine any sort of comedy based on this dark premise."
Carell admits that he probably wouldn't be able to score with his costar Keira Knightley in the real world.  "It would take the apocalypse to make it work," he said.  "These are two people that, given any other circumstance, wouldn't become friends, let alone drawn together in a soulful way…All of those things melt away and it becomes about who they are, what they need and what they care about." Read more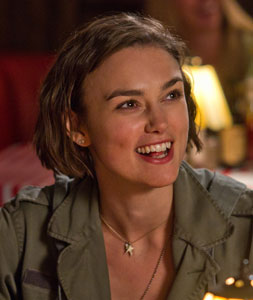 In Seeking a Friend for the End of the World, Keira Knightley's character Penny joins the ranks of cinema's Manic Pixie Dream Girls.  Not familiar with the term?  Coined by film critic Nathan Rabin to describe the type of free-spirited, indie-music loving, quirky young girls who seem to only exist in movies to open up emotionally hollow men (like Natalie Portman's character in Garden State and Zooey Deschannel's in 500 Days of Summer), Knightley's version of the MPDG serves as inspiration to Steve Carrell's character in the film, who is trying to come to terms with the failures in his life as the world is coming to an end. 
Despite taking place in the final weeks before the end of the world, Knightley was ironically attracted to the the positive outlook in the script.  She says, "My agent sent me the script. I thought it was one of the most strangely optimistic pieces that I'd read, and I instantly said, 'Yeah, I want to be a part of it.' It was one of the best scripts I'd seen in years – and so unique. I got on the phone with Lorene and we had a great chat for about an hour. I don't think we even actually talked about the film. We talked about our mothers, and about family." Read more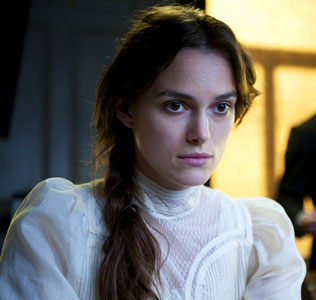 After signing on to play psychoanalyst and former patient of psychiatrist Carl Jung, Sabina Spielrein, (who had a rumored romance with Jung) in director David Cronenberg's A Dangerous Method, Keira Knightley had her work cut out for her. 
Talking with Interview Magazine, the always seemingly open and talented actress shared that she poured over books and data for four months, researching her role for the the period piece that is a featured title in a handful of film festivals this year.  For the unknown, the movie explores the relationship between Jung and Sigmund Freud, and how the psychological theory of psychoanalysis came out.
When asked if there was a difference for her when it comes to playing a fictitious character, or that of a real person, Knightley shared that she uses the same approach when acting. 
"No, not really. I mean, I think sometimes it's sort of easier because there's quite often a lot more information, you're not making it up, it's there in books, it's there in research form. But really the questions you ask about the character, and why people behave, and where they come, and how they've ended up in the places they've ended up [are the same]."  Read more