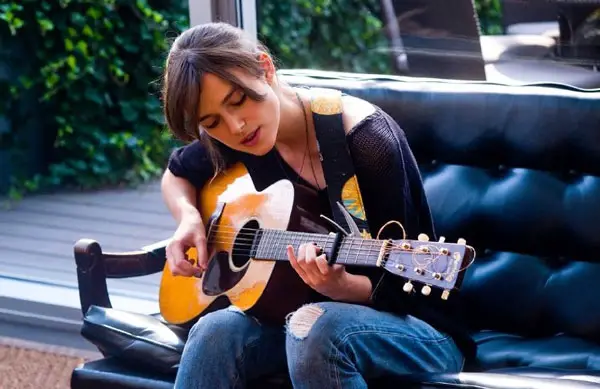 John Carney isn't a filmmaker whose name is well-known by general audiences, but his 2007 film Once became an Oscar-winning hit and later a very successful Broadway musical. Since then he has made two more music-themed films, 2013's Begin Again and 2016's Sing Street. While he had a wonderful time working with the young cast of Once and Sing Street, Carney tells The Independent that the production of Begin Again was less pleasant and explains why he'll "never make a film with supermodels again."
When the interviewer points out the praise for Sing Street, Carney responds, "Well, it's fantastic. I'm very surprised; it's a small personal movie with no Keira Knightley's in it. It's really rewarding."
Knightley played an aspiring musician in Begin Again. Later in the interview, Carney elaborates on his issues with working with Knightley:
I had just come back from making this far bigger movie in America and I was a bit disenchanted with working with certain movie stars in that movie and I wanted a break.

I didn't enjoy that experience of paparazzi and fabulous openings. The movie star world is not something that ever appealed to me. I like working with actors and I wanted to come back to what I knew and enjoy film-making again – not that I didn't enjoy Begin Again but Keira has an entourage that follow her everywhere so it's very hard to get any real work done, and so I was very ready to come back to Ireland and make films that nobody cared about who was in it or any of that crap.

I think the real problem was that Keira wasn't a singer and wasn't a guitar player and it's very hard to make music seem real if it's not with musicians. And I think the audience struggled a little bit with that in Begin Again. And as much as I tried to make it work I think that she didn't quite come out as a guitar-playing singer-songwriter. So I really wanted to work with musicians and actors that could play their instruments properly and sing and stuff like that.
Carney offers praise to Knightley's co-stars in Begin Again, and again highlights what he feels are her weaknesses as an actress:
I learned that I'll never make a film with supermodels again.

Mark Ruffalo is a fantastic actor and Adam Levine is a joy to work with and actually quite unpretentious and not a bit scared of exposing himself on camera and exploring who he is as an individual. I think that that's what you need as an actor; you need to not be afraid to find out who you really are when the camera's rolling. Keira's thing is to hide who you are and I don't think you can be an actor and do that…


So it's not like I hate the Hollywood thing but I like to work with curious, proper film actors as opposed to movie stars. I don't want to rubbish Keira, but you know it's hard being a film actor and it requires a certain level of honesty and self-analysis that I don't think she's ready for yet and I certainly don't think she was ready for on that film.
Though Knightley has been a spokesmodel for numerous products, she really never worked as a "supermodel." Regardless, Carney's intent is clear — he is only interested in working with more "honest" actors in his future films.
While other filmmakers who have worked with Knightley have come to her defense, Carney's words are still good advice for any actors.
Update: Carney has now apologized to Knightely (and spelled her name wrong while doing so).
"Recently, in a phone interview, the conversation turned to a discussion about a past film, 'Begin Again,' starring Kiera (sic) Knightley," he wrote. "I said a number of things about Keira which were petty, mean and hurtful. I'm ashamed of myself that I could say such things and I've been trying to account for what they say about me. In trying to pick holes in my own work, I ended up blaming someone else. That's not only bad directing, that's shoddy behaviour, that I am not in any way proud of. It's arrogant and disrespectful. Keira was nothing but professional and dedicated during that film and she contributed hugely to its success. I wrote to Keira personally to apologise, but I wanted to publicly, and unreservedly apologise to her fans and friends and anyone else who I have offended. It's not something that I could ever justify, and will never repeat."