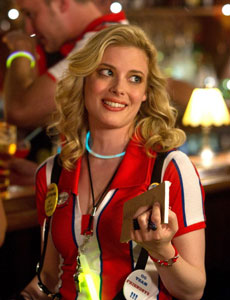 Gillian Jacobs had to forget her inhibitions for her cameo in the new indie Seeking a Friend at the End of the World. The actress, who also plays Britta on NBC's Community, plays a waitress who becomes involved in a end-of-the-world kissing fest… ok, orgy. 
She told Vulture, "The first few takes were far too polite.  It's funny, because as an actor, you know what you're supposed to do, despite your natural shyness—but to kiss all these people in rapid succession was a kick in the ass.   I didn't have a lot of time to do it, so [director] Lorene [Scafaria] was like, 'Now, please.  Not in two hours.'  I had to swallow my pride and do it.  I had kissed a girl in the second season of Community, but that was my first time kissing a girl ever, and I was so nervous, I almost knocked Brit Marling's teeth out.  So this time, I didn't maul Keira Knightley, but I had to just go for it.  It was kind of an out-of-body experience—you know, when you find yourself doing something you haven't done in your life."
Another difficult challenge has been Dan Harmon, the creator of Community, leaving the show.  "We're all very grateful to him, because he really changed our lives and our careers, so we have an infinite amount of gratitude towards him and his beautiful writing and his ambition," she said.  "But being an actor, we don't often have any power [over who is showrunner or not.]  We're all used to being in a position of no power, no decision-making.  We're trying to focus on making the fourth season, despite all the bumps in the road, because this is remarkable that a low-rated, underwatched show made it to season four in spite of everything."
Seeking a Friend at the End of the World is now playing in theaters.