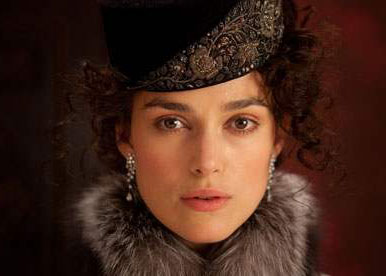 Keira Knightley, star of the new adaptation of Tolstoy's Anna Karenina, knew she wanted to be an actress from an early age.
"I've been acting since I was six," Knightley said in an interview with NY Daily News.  "My mum was an actor and a writer.  My dad was an actor.  It was a very intoxicating thing growing up around creatives like them.  My mum would be off acting somewhere, so I'd be backstage with my dad, doing homework, and he'd be onstage.  I always wanted to be part of that."
The actress broke through with her role in 2002's Bend It Like Beckham when she was 16.  She had already finished high school, and wanted to take tests to go to college.  "I was trying to balance school and work and found that I couldn't handle it," Knightley said.  "I had to admit defeat.  And I hate admitting defeat.  But I knew that the space for you in this business only comes around once.  You have to jump in when it's offered."
Since then she's starred in films like The Pirates of the Caribbean franchise, Pride and Prejudice (for which she was nominated for an Oscar), and A Dangerous Method and her love of acting has only strengthened.
"I love it when you're so lost in that moment that you're somebody else," the 27-year-old said.  "It's only a moment but that's what you strive for.  You take these experiences and try to understand the human condition.  You don't of course—but that's what makes it fascinating.  Honestly, I've never wanted to do anything else."
Anna Karenina opens in theaters Friday, November 16.