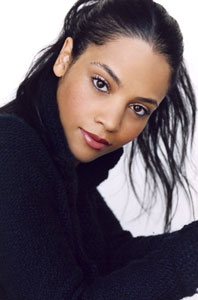 Ageism and Hollywood is a tale as old as time. However, what happens if the actor gets older, but the characters they play stay the same age? That's exactly what is happening with Bianca Lawson's career.
The 34-year-old has been in the business since she was a teen. Many viewers will remember her from her role as Megan Jones in Saved by the Bell: The New Class. She began that show in 1993 at the age of 14.
Since then, she has moved on to other TV and film roles like Buffy the Vampire Slayer, Dawson's Creek, Save the Last Dance, Vampire Diaries and currently, Teen Wolf. While Lawson has had a few birthdays since then, her characters have not.
We've seen older actors play teens on the big and small screen before. Gabrielle Cateris was 29 years old when she first appeared on 90210 and as Uproxx.com pointed out, "Stockard Channing was 34 when she played 18-year-old Rizzo in Grease." Read more
Podcast: Play in new window | Download (Duration: 13:13 — 9.1MB)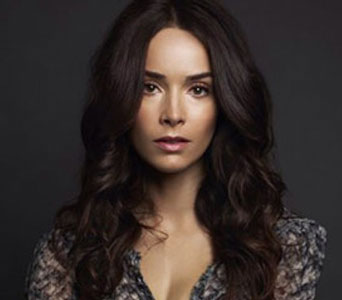 When Abigail Spencer shows up on your screen, you know those moments will be interesting. She was one of the best parts about Chasing Mavericks and she made the opening segment of Oz, the Great and Powerful that much better. 
Abigail was discovered by casting director of All My Children, Judy Blye Wilson, when she was – get this – sitting in the audience of the Regis and Kathy Lee. Wilson tracked her down, had her audition for a role on the soap and she ended up doing a little more than 20 episodes. But before you get all, "What the heck?," she already had the chops. She went to Carnegie Mellon University for acting, spent her teen years doing theater and her mentor growing up was none other than Broadway great Ann Reinking.
I talked to Abigail at SXSW where she was promoting her film, Kilimanjaro. In that film, Brian Geraghty plays Doug, a guy kind of floating through life. After his girlfriend moves out, Doug decides to embark on a more meaningful life and starts planning to climb the famous Mount Kilimanjaro. Abigail plays a woman who comes into his life and shows him that being spontaneous isn't a bad thing.
In this interview, we talk about how she got her start – including the Regis and Kathy Lee story, giving back to young actors, working with good people and her advice to actors.
Follow Abigail on Twitter and be sure to check her out in the new Sundance Channel series, Rectify. Premieres April 22nd!
For the full interview, click the audio link above or download it from iTunes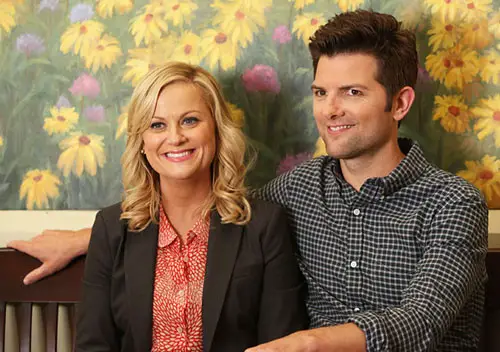 With one of the best casts on TV, fantastic writing and characters that you can't get enough of, NBC's Parks and Recreation is easily one of the best shows around.
Much of that success can be credited to stars Amy Poehler and Adam Scott, who, in tonight's episode, get married in full-on Parks and Rec fashion.
I talked to both Amy, Adam and Executive Producer Mike Schur in a Q & A about the upcoming nuptials, guest stars, the future of Leslie and Ben and their thoughts on what might happen next season.
Parks and Recreation airs on Thursdays at 8:30 on NBC Read more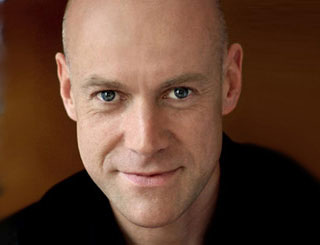 Anthony Warlow, who is being hailed as 'Australia's preeminent musical theatre and opera star' will make his Broadway debut as billionaire Daddy Warbucks in the new production of Annie. 
Warlow is currently playing Daddy Warbucks in the Australian production at Melbourne's Regent Theatre. 
"I'm having a great time playing Oliver Warbucks here in the Australian production and have always loved Broadway and New York City," Warlow said, "so I am delighted to finally make my Broadway debut at the great Palace Theatre and in the exciting new production of this wonderful musical.  I look forward to working with the talented James Lapine and his fantastic cast and creative team."
Warlow made his music debut with the Australian Opera at the age of 19 in Benjamin Britten's A Midsummer Night's Dream. Being awarded the Joan Sutherland Scholarship enabled him to further his career in opera, with roles in The Magic Flute, La Bohème, Tosca, Otello, The Tales of Hoffman (with Dame Joan Sutherland), Romeo and Juliet and Don Giovanni. Read more
Podcast: Play in new window | Download (Duration: 20:11 — 13.9MB)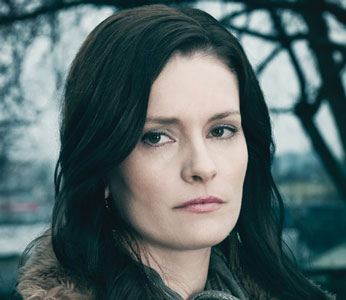 If you're not watching AMC's The Killing, then you are missing out on some great work by one of the best cast's on TV.
The show revolves around the murder of teenager Rosie Larsen and as the story deepens, we're finding out that Rosie's aunt Terry, played by Jamie Anne Allman also has some secrets she's been hiding. 
I talked to Jamie recently and had a really fun conversation with her about the show and what it's like on-set when you have to deal with such a depressing subject. She also talked about taking risks when you audition and had a perfect example on when she auditioned for The Shield. She took a chance, nailed it and walked away with a recurring role on that show.
At the end of The Killing's season, we'll find out who killed Rosie and that will unfortunately end Jamie's time on the show. But, you can soon check her out in the upcoming film, Any Day Now (which also stars Alan Cumming and Garret Dillahunt).
Want more of The Killing? Check out our interview with Eric Ladin!
For the full interview, click the audio link above or download it from iTunes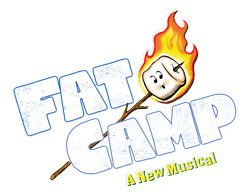 It was announced today that the 2009 New York Musical Theatre Festival's Outstanding Musical winner Fat Camp will begin performances off Broadway on April 12, 2012 at the American Theatre of Actors.
Fat Camp features a book by Randy Blair (Perez Hilton Saves the Universe) and Tim Drucker (Perez Hilton Saves the Universe), music by Matthew roi Berger (NY Neo-Classical Ensemble's 12th Night), lyrics by Randy Blair, choreography by Kelly Devine (Rock of Ages) and direction by Casey Hushion (In the Heights, Drowsy Chaperone and Elf – as Associate Director).
Recreating their roles from the 2009 New York Musical Theatre Festival production of FAT CAMP are Carly Jibson (Hairspray) as Daphne, Cale Krise as Anshell, Kate Weber as Britta, Larry Owens as Darnell, Nancy Renée Braun and Michael Mendez. Joining them are Daniel Everidge (Grease, 2007) as Robert, Molly Hager as Taylor, Jared Zirilli as Brent, Kati Rediger as Ashley, Marcus Neville as Mike, Janet Dickinson as Sandy, Charles Barksdale, Michael Buchanan, Bridie Carroll and Jennifer Foster. Read more
The winner of NBC's Grease: You're The One That I Want back in 2007, actress Laura Osnes has defied the odds of most reality stars who end up falling off the map after their time in the limelight. 
Instead the twenty-four year old Osnes, who recently spoke with Deseret News, has pursued her love, following her heart, and now stars in the Broadway production of Bonnie & Clyde. "I just have learned in this business that you really have to follow your heart. That's what I did.  My heart was attached already to the people and the project." Adding, "I think if I had written it out myself, I wouldn't have planned it as good as this. In my wildest dreams, I never would have imagined all  had."
Not that it has been easy shaking off the preconceived notions that have followed the actress, who previously went from performing Grease dinner theaters in Minneapolis to the Broadway production.  "There was a stigma.  I'm still very thankful that I did the reality show because it put me on the map and it opened a lot of doors for me."
Now performing in Bonnie & Clyde, in the lead role, Osnes shared her excitement about working on the Frank Wildhorn production.  "This is my first originating role so it's just been so exciting to be part of this process pretty much from the ground up.  It was kind of magical how the whole thing happened."  Read more
Podcast: Play in new window | Download (Duration: 12:31 — 8.6MB)
Megan Mullally and Ken Marino star in Adult Swim's Children's Hospital. The show, which was just renewed for another season, features Marino as Dr. Glenn Richie and Mullally as Chief in the medical drama parody.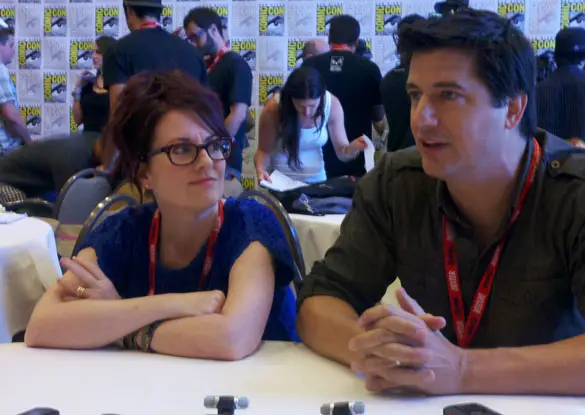 Megan got on most of our radars playing Karen on Will & Grace but she's also been on Broadway (Grease, How To Succeed, Young Frankenstein) and other hit shows like Party Down and plays a recurring character on Parks and Recreation.
Ken has been involved in so many great comedies over his career; The State, Wet Hot American Summer, Party Down and Role Models to name a small few.
This was the first time I've talked to either of them and they were probably my favorite interview at Comic-Con. Both were just flat-out funny and just really warm, nice people.
We talked about Children's Hospital, a Party Down movie, female body parts and more! Check out the full audio interview, because it's hilarious!
Children's Hospital airs on Midnight, Thursdays on Adult Swim. 
For the full interview, click onto the audio link above or download from iTunes.
Before we talk about Children's Hospital, is the Party Down movie going to be the new Arrested Development movie or do you think that it's actually going to come together as the point?
Ken Marino: The script for the Party Down movie is basically, it feels, it read like the next episode of Arrested Development, so yeah, we're going to do the Party Down movie we will be playing…
Megan Mullally: I'm playing Maybe.
Ken Marino: Yeah and I'm doing [Jeffrey] Tambor's part.  So, it'll be good.  Read more
The Broadway companies of Wicked and Mary Poppins are about to get some new blood, some of it green.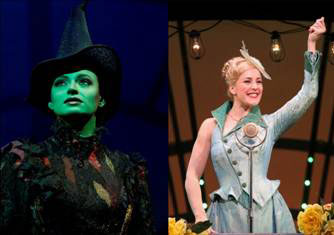 Jackie Burns and Chandra Lee Schwartz are going to take over the roles of Elphaba and Glinda in the long running hit, Wicked.
Burns appeared on Broadway in Hair and Off-Broadway, she was a member of the original company of Rock of Ages. 
Schwartz has appeared on Broadway in Gypsy with Bernadette Peters, as Penny in Hairspray, and Sharpay in Disney's High School Musical. In 2007 she was nominated for a Barrymore Award for Nerds, the Musical. 
Both actresses come directly from the First National Tour and will begin on Tuesday, September 27. Read more

OPEN CALL AUDITIONS FOR THE UPCOMING BROADWAY REVIVAL OF THE LANDMARK ROCK MUSICAL SET FOR THURSDAY, JULY 7, 2011
AT THE ACTORS CHAPEL, 239 WEST 49TH STREET
10 A.M. TO 5 P.M.
*  *  *  *  *  *  *  *  *  *
PREVIEW PERFORMANCES BEGIN THURSDAY, OCTOBER 13, 2011
AT BROADWAY'S CIRCLE IN THE SQUARE THEATRE;
OPENING NIGHT IS MONDAY, NOVEMBER 7
GROUP TICKETS (10+) ON SALE NOW!
CALL TOLL FREE 1-855-DAY-BY-DAY
SINGLE TICKETS ON SALE BEGINNING MONDAY, JULY 11
Think you've got what it takes to perform in a great big Broadway show?  Here's your chance!
On Thursday, July 7, 2011, open call auditions for the first-ever Broadway revival ofStephen Schwartz's landmark rock musical GODSPELL are set to begin at 10 a.m. at The Actors Chapel in midtown Manhattan (239 West 49th Street, between Broadway and 8th Avenue). Auditions will continue until 5 p.m.
Telsey + Company, the casting office for GODSPELL, is seeking musical theatre perfomers with strong singing voices and comedic ability, ages 16-30. All ethnicities and types are welcome.
All auditionees should prepare 16 bars of a pop song of contemporary musical theatre song, to be sung a capella. Bring a photo and resume stapled together.
"GODSPELL has an incredible tradition of launching the careers of tomorrow's stars," said producer Ken Davenport. "Martin Short, Victor Garber, Gilda Radner, Jeremy Irons and Geoffrey Rush all appeared in Godspell early in their careers. The upcoming Broadway production of GODSPELL will without a doubt launch the next generation of stars, and I want to make sure that everyone who has ever had a dream of being on Broadway has the chance to be seen."
For more information on the Thursday, July 7 open call auditions, please visit www.godspell.com.
*   *   *   *   *   *   *   *   *
Directed by Daniel Goldstein and choreographed by Tony Award nominee Christopher Gattelli (South Pacific), GODSPELL is scheduled to begin preview performances onThursday, October 13, 2011 at Broadway's Circle in the Square Theatre (1633 Broadway at 50th Street). Opening Night is Monday, November 7 (7 p.m.).
GODSPELL reunites Daniel Goldstein — making his Broadway directorial debut — and the designers of their critically-acclaimed 2006 Paper Mill Playhouse conception in a new production that has been completely re-imagined for the Circle in the Square, one of Broadway's most intimate, unique and versatile houses.
GODSPELL features scenic design by David Korins (Passing Strange, Bridge and Tunnel), costume design by Miranda Hoffman (Well), lighting design by Ben Stanton(Angels in America) and orchestrations by Michael Holland (Hurricane).
Conceived and originally directed by John-Michael Tebelakwith music and new lyrics by Academy and Grammy Award winner Stephen Schwartz (Wicked, Pippin),GODSPELL has continued to electrify audiences throughout the country since its original New York premiere in May 1971.
GODSPELL's Tony-nominated score features instantly recognizable hits including "Day by Day," "Turn Back, O Man," "Learn Your Lessons Well, "Prepare Ye the Way," "Light of the World" and many more.
One of the most popular musicals in the world, GODSPELL originally ran for more than 2,600 performances in New York and spawned successful touring productions in major U.S. cities, a 1973 motion picture adaptation and countless international engagements for the past 40 years.
The new Broadway revival of GODSPELL is produced by Ken Davenport and The People of Godspell.  Complete casting will be announced soon.
For more information and updates, visit www.Godspell.com.
TICKETING AND PERFORMANCE SCHEDULE *
GODSPELL will play Broadway's Circle in the Square Theatre (1633 Broadway at 50thSt.). Beginning Thursday, October 13, the weekly preview performance schedule is as follows:
Tuesday through Friday evenings at 8 p.m.
Saturdays at 2:30 p.m. and 8 p.m.
Sundays at 2:30 p.m. and 7:30 p.m.
Beginning Tuesday, November 15, the regular performance schedule is as follows:
Tuesday evenings at 7 p.m.
Wednesday matinees at 2 p.m.
Thursday and Friday evenings at 8 p.m.
Saturdays at 2:30 p.m. and 8 p.m.
Sundays at 2:30 p.m. and 7:30 p.m.
Tickets are $125.00 for all performances except Saturday evenings, which are $135.00 (all prices include a $2.00 facility fee) and are available by calling Telecharge.com at 212-239-6200 beginning Monday, July 11.
Tickets may also be purchased in-person at the Circle in the Square Theatre Box Office beginning Monday, September 19.  Box Office hours are 10 a.m. to 6 p.m. Monday and 10 a.m. to 8 p.m. Tuesday through Saturday (closed on Sundays).
Group sales (10+ tickets) are now available by calling toll-free 1-855-DAY-BY-DAY (1-855-329-2932).
[* Performance schedule and pricing are subject to change at any time.]
PRODUCTION BIOGRAPHIES
STEPHEN SCHWARTZ (Music and New Lyrics) has contributed music and/or lyrics to Godspell, Pippin, The Magic Show, The Baker's Wife, Working (which he also adapted and directed), Rags, Children of Eden and the current Broadway hit, Wicked. He collaborated with Leonard Bernstein on the English texts for Bernstein's Mass and wrote the title song for the play and movie Butterflies Are Free. For children, he has written songs for two musicals, Captain Louieand My Son Pinocchio. For films, he collaborated with Alan Menken on the songs for Disney'sEnchanted as well as the animated features Pocahontas and The Hunchback of Notre Dameand wrote the songs for the DreamWorks animated feature The Prince of Egypt.  His first opera, Séance on a Wet Afternoon, premiered with Opera Santa Barbara in the fall of 2009 and was recently presented by New York City Opera. A book about his career, "Defying Gravity," has recently been released by Applause Books. Under the auspices of the ASCAP Foundation, he runs musical theatre workshops in New York and Los Angeles, and is currently the President of the Dramatists' Guild. Mr. Schwartz has recently been given a star on the Hollywood Walk of Fame and inducted into the Theatre Hall of Fame and the Songwriters Hall of Fame. Other awards include three Academy Awards, four Grammy Awards, four Drama Desk Awards, and a tiny handful of tennis trophies.  Those interested can find more information at www.stephenschwartz.com.
JOHN-MICHAEL TEBELAK (Concept and Original Direction) was 22 years old when Godspell hit New York.  It was his first brush with the New York theatre, but by no means his first venture into theatrics.  His theatrical career started when he "walked into a theatre at the age of nine and stayed there."  Mr. Tebelak originally conceived of Godspell as his Master's Thesis project at Carnegie-Mellon University in 1970. All of the original cast members contributed to the playful script that evolved under John-Michael's direction. Subsequently, he directed productions of Godspell at La MaMa Theatre in February of 1971, the Cherry Lane Theatre (opening May 17, 1971), the Promenade Theatre, and on Broadway.  Tebelak co-authored the screenplay for Godspell (1973) for Columbia Pictures with David Greene.  Mr. Tebelak was dramaturge forthe Cathedral Church of St. John the Divine in New York City, and wrote and staged liturgical drama there. He died of a heart attack at the age of 36 in April 1985.
DANIEL GOLDSTEIN (Director) is the director of The Unauthorized Biography of Sarah Brown(Goodspeed/Broadway Across America) and Artificial Fellow Traveler with Ethan Sandler, as well as an upcoming production of God of Carnage at Huntington Theater Company next year. As a writer, his musical Unknown Soldier (written with Michael Friedman) will be at the O'Neill National Musical Theater Conference, summer 2011.  Recent projects include The Ride (NYC commercial), Golden Boy (Juilliard), Annie (St. Louis MUNY), Clear (O'Neill National Musical Theater Conference), True West (Williamstown Theater Festival), Miss Margarida's Way (Bay Street Theater, with Julie Halston), A New Brian at the Toho Theater in Tokyo, Mary's Weddingat the Two Rivers Theater, a highly praised revival of Godspell at the Paper Mill Playhouse, Sinan Unel's The Cry of the Reed at the Huntington Theatre Company, Beau Willimon's Lower Ninth at the Flea and SPF, the Off-Broadway commercial production of the hit Fringe Festival musical Walmartopia, Kenny Finkle's Indoor/Outdoor at the DR2 and SPF, Falsettos and Les Liaisons Dangereuses at the Huntington Theatre Company, But I'm a Cheerleader at the New York Musical Theater Festival and Bathsheba Doran's Living Room in Africa at Gloucester Stage. He has served as the Associate Director for All Shook Up! and Fully Committed and the Resident Director for the First National Tour of Mamma Mia!. He is a graduate of Northwestern University with a degree in Performance Studies.
CHRISTOPHER GATTELLI (Choreographer). Broadway: South Pacific (Tony and Outer Critics Circle nominations), Women on the Verge of a Nervous Breakdown, Sunday in the Park with George, The Ritz, Martin Short – Fame Becomes Me, 13, High Fidelity and the upcoming revival ofFunny Girl. Off-Broadway: Altar Boyz (Lucille Lortel Award, Joe Callaway Award, Helen Hayes Award, Drama Desk Nom.); Bat Boy: The Musical (Lucille Lortel Award); 10 Million Miles; Adrift in Macao; tick, tick…BOOM!; I Love You Because; How To Save the World…. West End: South Pacific; Sunday in the Park with George; tick, tick…BOOM! National/International Tours: Altar Boyz, Godspell, Grease, Pooh's Perfect Day (World Premiere) Disney Theatricals. Regional: Little Miss Sunshine (La Jolla Playhouse), Kander and Ebb's All About Us (Westport Playhouse), The Baker's Wife (Paper Mill Playhouse), Me and My Girl (Goodspeed Opera House), Tom Jones – World Premiere (North Shore Music Theater), O. Henry's Lover (Goodspeed-at-Chester).  As director: world premiere of Emmet Otter's Jugband Christmas at Goodspeed Opera House;Chance and Chemistry: A Tribute to Frank Loesser at The Minskoff Theater starring Sir Paul McCartney, Jo Sullivan  Loesser, Art Garfunkel, Hugh Jackman, Chita Rivera, Audra McDonald, Judy Kuhn, and more, including Elmo from "Sesame Street;" Radio Girl at Goodspeed's Norma Terris Theater; Departure Lounge at The Public for SPF's Summer Series. Other favorites include: Broadway concerts of Hair with Jennifer Hudson, and Chess with Josh Groban, choreographed for "The Rosie O'Donnell Show" for three seasons, and the opening number for the 2000 Tony Awards. Upcoming: Silence! The Musical at Theater 80 on St. Marks, World Premiere of Disney's Newsies at Paper Mill Playhouse and the new revival of Funny Girl.
KEN DAVENPORT (Producer). Broadway productions include Oleanna starring Bill Pullman and Julia Stiles, Speed-the-Plow, Will Ferrell's You're Welcome America, Blithe Spirit starring Angela Lansbury and 13. He also recently released These Magnificent Miles: On the Long Road with Red Wanting Blue, a documentary on one of the top unsigned rock bands in the country. Ken is the only independent producer to have had three shows running simultaneously Off-Broadway-Altar Boyz, The Awesome 80s Prom and My First Time. He was featured on a national commercial for Apple's iPhone, named one of Crain's "Forty Under 40," and was dubbed the "P.T. Barnum of Off-Broadway" by The New York Times. Ken created and developed a smartphone app called AT THE BOOTH™, which gives a listing of available shows at the famed TKTS® booth in Times Square. AT THE BOOTH™ has been featured on Entertainment Weekly's Must List and called "Ingenious! The best thing to happen to New York theater since, well, the introduction of the TKTS® booth!" Combined, Ken's productions have grossed more than $100 million worldwide and are being produced internationally in over 25 countries including Germany, Mexico, France and Korea. Current projects include bringing the first ever revivals of both Godspell and A Few Good Men to Broadway, adapting the novel and film Somewhere in Time into a Broadway musical, and his latest creative collaboration MissAbigail's Guide to Dating, Mating and Marriage!. He also runs a number of theatrical websites including Broadway's #1 social networking site, BroadwaySpace.com, which has just launched the Broadway board game Be A Broadway Star, recently seen on the Today Show. His blog,TheProducersPerspective.com, has been featured in Vanity Fair, New York Magazine, The Gothamist and more. He has written articles for Forbes, Mashable, Imedia and others.  For more information, visit www.DavenportTheatrical.com.