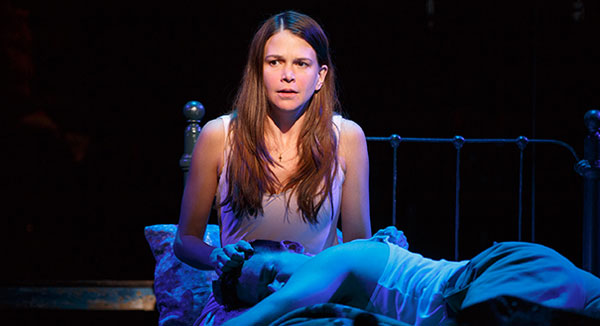 Though she made a short move away from Broadway to star in the ABC Family series Bunheads (which, frankly, always sounded to me like an insult that came out of Biff Tannen's mouth rather than the name of a show about dancers), Sutton Foster is a Broadway star. She has appeared on Broadway regularly ever since debuting as an understudy in Grease in 1996, winning two Tony Awards for Best Performance by a Leading Actress in a Musical for her roles in Thoroughly Modern Millie and Anything Goes. She has been nominated again — her six nomination overall — for her lead role in Violet, a musical about a disfigured young woman. Foster explained to Vanity Fair why she decided to star in a musical that is far less bombastic than the productions she has previously starred in.
Foster points out that she felt she had reached the peak of Broadway spectacle with her previous work. She says, "After I did Anything Goes, which was three years ago, I realized I couldn't keep going in that same direction because I didn't know where else to go, beyond that. Because Anything Goes was sort of the pinnacle of that type of character—for now. And I think if someone [told me to] look at my career as a whole, I think variety, and I think challenging myself as an actor, and even doing the unexpected—is so much more exciting."
She continues, "Honestly, the first time that Violet came around, the reason that I wanted to do it was because I was living in L.A. and Jeanine Tesori, who wrote the show, called and said, 'Would you do this one-night concert of Violet in New York,'and I thought, Oh, this is perfect. I can remind New York that I'm still alive, I'm still here and I'll come back, I'll do this one-night-only thing and then I'll go back to L.A. At the time I was waiting to see if Bunheads was getting picked up [for a second season] or not. And I think we actually found out while I was in rehearsals for Violet over the summer that Bunheads was cancelled. And I thought, Oh, this is great I can come back, do something completely different and then we'll see. Then when Violet started to get traction of moving to Broadway, it just seemed like a really great way to return to New York stage, do something that was completely different."
Seems like "completely different" still works for Foster — she is considered one of the favorites to win the Tony at Sunday's ceremony.