In Theaters: 'Skyfall', 'A Late Quartet' and 'The Details'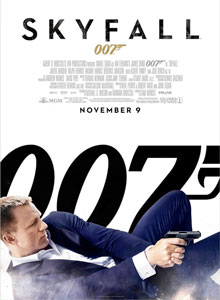 Skyfall is the film to see this weekend and why not? It's not only the one of the best Bond movies in years but it's also one of the most entertaining films of the year.
The film is almost a throw back to early Bond films; a back-to-basics as it were. It feels like Casino Royal and Quantum of Solace were precursors to Skyfall. Characters are introduced, canon is updated, Bond's history is explored and Daniel Craig is spectacular in his third go round as Bond. Adding to the fun is Javier Bardem as Silva, one of the best Bond villains ever. Yeah, ever.
The opening action sequence is tense and for once we finally get a chance to see Bond as a guy; drinking, having fun and hanging out. It's just so much fun that I can't wait to see it again.
Also opening is A Late Quartet, starring Philip Seymour Hoffman, Catherine Keener, Christopher Walken, Imogen Poots and Mark Ivanir. Walken, Hoffman, Keener and Ivanir are members of a famous quartet who and when one of their members has a life changing medical diagnosis, each one struggles to come to terms with their own lives.
The story is fairly easy to figure out. You're not going to be surprised by 95% of the film but what saves it is the acting. The cast is perfect, especially Walken. His performance is wonderful and heartbreaking and inspiring. And I had never heard of Ivanir before but he fit into the cast like a glove and I hope this film puts him over the top in getting some choice roles.
And finally, we get to The Details. The film follows a married man and how his life spirals out of control from trying to kill a family of raccoons. It deals with infiedlity, murder and kindness and is fine for a night of zoning out in front of the TV. Stars Tobey Maguire and Elizabeth Banks are wasted which is a shame. If you want to find out more, here's is a link to my review.
http://www.dailyactor.com/wp-content/uploads/2016/06/jeff-bridges-hell-or-high-water.jpg
Jeff Bridges on Creating a Character, 'Hell or High Water' and Playing The Dude
"I use elements of myself—I see my parallels with a character—and find similar things in my own personality." - Jeff Bridges on Creating a Character
http://www.dailyactor.com/film/jeff-bridges-creating-a-character/
http://www.dailyactor.com/wp-content/uploads/2016/07/benjamin-bratt-actor.jpg
Benjamin Bratt: "For as limiting as the opportunities are for actors and actresses of color I've been very blessed"
"...it's dangerous to keep going down the same artistic path." - Benjamin Bratt
http://www.dailyactor.com/film/benjamin-bratt-ive-been-very-blessed/
http://www.dailyactor.com/wp-content/uploads/2016/07/watch-keegan-michael-key-explain.jpg
Watch: Keegan-Michael Key Explains Why "Improv actors are at war together"
Check out Key's points on why it's so important for improv actors to have each others' backs in the clip above.
http://www.dailyactor.com/videos/keegan-michael-key-improv-actors-at-war-together/
http://www.dailyactor.com/wp-content/uploads/2016/07/norman-reedus-actor.jpg
Norman Reedus on Acting: "If it's something you really want, you have to roll with the rejection"
Norman Reedus is a fan-favorite star on The Walking Dead and was in the cult favorite film The Boondock Saints. However, in the dozen years between those two gigs Reedus had experienced ups and downs in his career and in many cases he was cast in very small roles in big movies or lead roles […]
http://www.dailyactor.com/actors-on-acting/norman-reedus-acting-rejection/
http://www.dailyactor.com/wp-content/uploads/2016/07/frank-grillo.jpg
Frank Grillo on Being Typecast: "I welcome it"
"I hear actors pooh-pooh the idea... people might see them as a certain thing. I welcome it" - Frank Grillo on Typecasting
http://www.dailyactor.com/film/frank-grillo-on-typecasting/