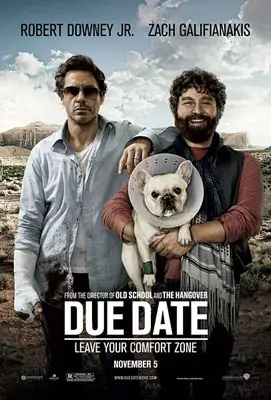 Due Date
Director: Todd Phillips
Cast: Robert Downey Jr., Zach Galifianakis, Michelle Monaghan, Juliette Lewis, Jamie Foxx
Writers: Todd Phillips, Alan R. Cohen, Alan Freedland, Adam Sztykiel
I was so looking forward to this movie.
I love Todd Phillips movies and while I wanted it to be great it only ended up being…good. That's not a bad thing but with the talent involved I guess I expected more.
Don't get me wrong though – there are a bunch of laughs in Due Date.
Robert Downey, Jr is Peter Highman, an architect stranded in Atlanta desperate to get back to his pregnant wife (Michelle Monaghan) in LA. He catches a ride with the also stranded Ethan (Zach Galifianakis) and the road trip from hell begins.
Why are they stranded in Atlanta? Both Peter and Ethan have landed on the No-Fly list. The set-up is a little convoluted but it gets the story moving.
Throughout the film, the 2 guys bond and unbond, bond and unbond and bon and unbond again. And I'm not quite sure why Galifianakis' character keeps coming back to the friendship because Downey's Highman is just a jackass. Seriously, Downey is a self-admitted pig and a-hole.  And he's basically playing straight man to Galifianakis which seems to hamper the film because Downey is massively funny.
One of the highlights for me (and you I'm going to assume) is Galifianakis and all his wannabee actor glory. He wears capezios. He's got black and white headshots (one has him posing with a gun) and a set of comp shots. And then he gives his reason for wanting to be on 'the tv." because of 2 1/2 Men…especially Season 2.
Along the way, Jamie Foxx shows up for no real reason except to have Jamie Foxx in the film. And Michelle Monaghan has the thankless part of saying, "You're what? or "Peter, Where are you?" most of the film.
Like I said, there are incredibly funny parts (Sunny, the masturbating dog is still making me giggle) and its got a really nice, heart-warming ending so, I'd recommend it.