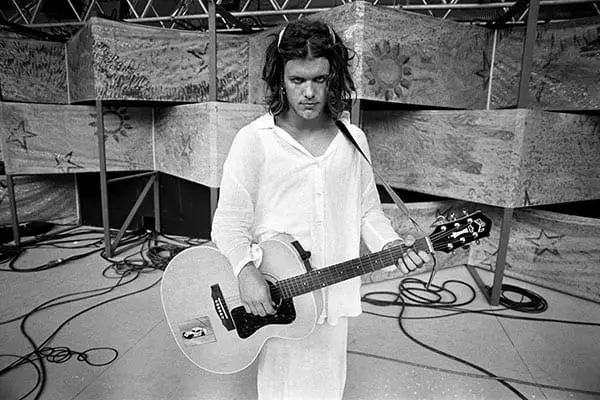 It's a safe bet to say that at some point in your life, you've had Blind Melon's hauntingly jaunty song 'No Rain' bouncing around inside your head. During the early 90s, the band, led by lead singer Shannon Hoon, was everywhere. And what most didn't know, until now, is that Hoon was also armed with a video camera.
For five years, before he left his hometown of Lafayette, Indiana, he was constantly filming. From the mundane, casual conversations with his father or mother, to things that are eerily prophetic. He filmed the band signing their record contract, backstage craziness, life on the road and even the birth of his daughter, who as it turns out, he never had the chance to know.
The life and death of Shannon Hoon, who died of a drug overdose at 28, can only be described as a tragedy. Not because he was a big "rockstar" and deserves adulation. His death is a tragedy because of what he left behind.
The new documentary, All I Can Say, is a first-hand account of Hoons life that was completely filmed by the singer. The filmmakers, Danny Clinch, Taryn Gould and Colleen Hennessy scoured hours and hours of footage to put together a narrative not only about his life, but the early 90s rock scene too, when Guns n Roses and Nirvana we're at the epicenter of music.
To be honest, watching the quick cuts does take a minute to get used to, but once your brain settles, it's almost riveting to watch his life unfold. From the highs (literally and figuratively) to the lows, like when he's by himself in a lonely hotel room. Which is actually how the film ends. Hours before his death, he's on the phone with his longtime girlfriend, Lisa Crouse, telling her how he can't wait to come home to her and their little girl. It turns out, that was the last phone call they'd ever have. Hoon was a rockstar, amateur philosopher and drug addict and it's fascinating to watch how all three collide.