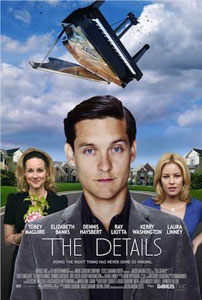 The trouble with The Details is the actual details.
The film stars Tobey Maguire and Elizabeth Banks as a married couple (Dr. Jeffrey Lang & Nealy) who are stuck in a rut. To take his mind off the relationship, he builds a backyard paradise but when a family of raccoons invades his haven, Lang goes on defense, trying to destroy the vermin. But as one thing leads to another, he finds his life rapidly unraveling into a tragic mess.
The film itself is like one big Seinfeld episode without most of the laughs. All of the events set in motion at the beginning of the film funnel into one big ending where everything is suddenly connected. And that's the problem: The more things happen, the more you just don't care. Through death, infidelity and unexpected kindness of characters, the film just leaves you feeling like…"That's it?" It's supposed to be a black comedy but there are so few laughs in the film.
This is the first time I've seen Maguire in a role where he isn't a man-child and he's fine in the part but it seems like he's got two modes for most of the film: frantic and an odd calm. While the circumstances certainly call for both, I just found myself wanting more from him.
Elizabeth Banks, one of the best comedic actress around right now, is pretty much wasted although she does have a good scene towards then end of the film. The film also stars Laura Linney, as the crazy cat-lady neighbor, Dennis Haysbert, Kerry Washington and Ray Liotta. I like Linney a lot but playing a crazy cat lady is not for her. She got annoying towards the end; shrieking and yelling and you just want her stop. 
The three supporting actors, (Liotta, Washington and Haysbert) are the reason to watch the film. All three are pretty great, but the one who absolutely shined was Haysbert. Like most of his parts he plays, he brings a quiet confidence to the role but with an added sense of sadness you can out your finger on till about halfway through.
The film is fine for a slow Saturday night but for me, I was bored halfway through and truthfully only finished the film to see how the story ended.