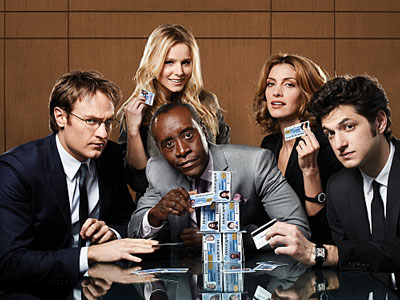 Showtime is premiering the new Don Cheadle dark comedy, House of Lies, online ahead of its Sunday air date.
The show, based on the hit tell-all book from best-selling author Martin Kihn (House of Lies: How Management Consultants Steal Your Watch and Then Tell You the Time), is about all the screwed up ways big business is practiced these days.
Starring Cheadle, Kristen Bell, Ben Schwartz (Jean-Ralphio on Parks and Recreation!), Josh Lawson and Glynn Turman, the show "peels back the bull to reveal a world few know exists and fewer still have experienced."
If you don't feel like watching it now, you can also watch it on SHOWTIME apps on iPhone®, iPod Touch® and Android smartphones and tablets, as well as the SHOWTIME Social app for iPad®, Nook® and Kindle Fire tablets, and for download as a free video podcast on iTunes.
Or basically, anywhere you have an internet connection, you'll be able to watch it.
The show premieres Sunday, January 8 at 10 p.m. ET/PT 
Check it out below!