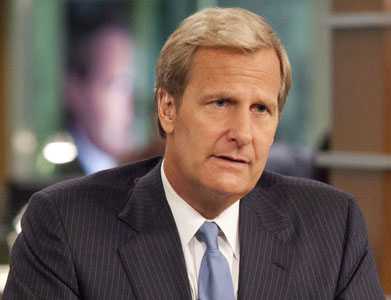 Jeff Daniels is somewhat enamored with his boss, creator/writer/executive producer Aaron Sorkin.  The two are working together on HBO's series, The Newsroom, where Daniels is able to recreate some of Sorkin's best monologues.
"The beauty of his writing is that he writes for actors," Daniels said during a panel session at PaleyFest.  "He writes scenes that you get to play and get your teeth into.  We've all gotten those scenes and those speeches.  That's unusual in movies, television or on Broadway.  It's to be cherished.  It really is."
Although the show's first season received some criticism, Daniels (who plays head news anchor Will McAvoy) is happy with how the show is progressing.  "I don't watch dailies.  I don't pretend not to read reviews, I just don't.  I wait for it to come on the air, just like everybody else," he said, as reported by Collider.com.  "I learned a long time ago that the show you're going to see isn't the one you have in your head.  As soon as you understand that, you're going to enjoy it a lot more."
"There are a lot of really talented people on this show, who don't worry about improv.  You learn it word for word.  That's how we do it on Broadway.  But, we're just the actors on this show.  There's no star school crap of, 'Hey, I rewrote that scene.'  There's none of that.  You don't do that.  You don't go up to the directors and go, 'Put a 75 on that.  Take the 50 off.'  I've worked with those assholes!  Our jobs are to do Will, do MacKenzie, do Charlie.  We come in and hit it as hard as we can, and we hope we gave them enough to work with.  That's what this show is."
The second season of The Newsroom will premiere on HBO in June of this year.