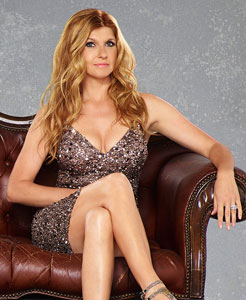 Connie Britton worried that there would be no coming back from playing Tami Taylor.  After her name became attached to her beloved character on Friday Night Lights, Britton knew it would take something a little daring to avoid being typecast forever.
Enter American Horror Story.  After appearing on the first season of Ryan Murphy's salacious drama, Britton was able to successfully break out of the mold of playing Coach's wife.  "It was perfect," the actress said in an interview with The New York Times.  "It really helped me shake out any sense of preciousness about the Tami mystique."  She acknowledges this plan could have backfired.  "The thing about taking risks is, if it's really a risk, you really can fail.  It's only a pretend risk if you really can't fail."
So, in the spirit of taking chances, Britton joined the cast of ABC's new behind-the-scenes country drama, Nashville.  She knew she wasn't playing it safe, just by the fact that her character was initially referred to as 'aging.' 
"Honestly, it was a problem for me," she said.  "I was like, the minute I've been referenced in writing as aging, I'm done.  That's not even who I represent as an actor.  My life started being awesome five years ago."
In an effort to keep her character, Rayna James, from becoming a stereotyped woman of a certain age, Britton has remained vocal about how real women act.  "Just drawing on my own experience, I never—I never—personally reference myself as old," she confided.  "I don't think of myself as old, but I certainly would not say that to a man.  I might have a conversation with some girlfriends—what are we doing about the lines around our eyes—but to a man?  There are certain things—it would just be demystifying and disempowering."
Britton is certainly never one to be disempowered, admitting that "sometimes my favorite directors are the ones I literally want to punch in the nose."  And after everything is said and done, the actress has reached another milestone in her career, by recently receiving a Golden Globe nomination for her portrayal of Rayna.
"All it took to get on track was a lot of time and fight," she said.
Nashville airs on Wednesdays at 10 p.m. on ABC.