So it finally happened: after eight seasons worth of hints and misdirection, viewers of How I Met Your Mother have finally met the mother that Bob Saget's voice has been talking about to those two bored-looking kids.  In a surprising reveal in the eighth season finale, the mother was revealed to be… well, I won't come out and put it here just yet just in case you were watching the NHL playoffs and the episode is waiting for you on the DVR.  But be forewarned, I will be revealing the actress' name in a bit.
The co-creators of the show, Carter Bays and Craig Thomas, sat down with Entertainment Weekly to talk about the big reveal that was eight years in the making and why they chose the actress whom the mother was revealed to be.  When asked how they managed to keep it a secret, the duo answered:
THOMAS: In the script we called the character "definitely not the mother," so it was very good code. We got very CIA and intense about it: We really didn't put it on paper; we never emailed the outline or the script. We literally just kept it on hard copies of paper that we messengered back and forth to people and then got the copies back and destroyed [them].
BAYS: We had like a whole fake title. The script that we auditioned her from was titled USC Student Thesis Film.
THOMAS: Something no one in Hollywood would ever actually read.
BAYS: All the extras from the scene with the mother are staff from How I Met Your Mother. They're all there. It was really fun.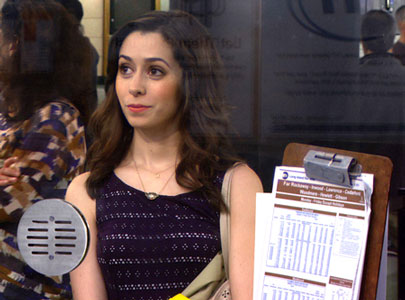 Though everyone watching was surprised at finally seeing the mother (who has yet to be named), some were surprised by the casting of Cristin Milioti.  Milioti is best known for originating the female lead in the Broadway musical Once (curiously, her character in the musical is also unnamed) and a handful of appearances in independent films.  Many assumed when the mother was finally revealed it would be a huge name.  However, Thomas explains why they specifically wanted to cast an actress who was not immediately well known to most audiences, pointing out, "We didn't want it to be a big famous star because we didn't want the wider audience to have associations with whatever actress this would be, where it's like, 'Oh, it's Anne Hathaway and I think blank of Anne Hathaway….' You're waiting years to meet this woman, and it's like, 'Oh, he's in love with Amy Adams just like the rest of America is.' The whole idea is that Ted's never seen this woman before, so it better feel that way to the audience." Cristin Milioti is she's a fantastic actress and she's been in [Broadway musica] Once, and it's a Tony-nominated, wonderful musical but she hasn't done a ton of big TV parts or bigger film parts. It seems so much more interesting and so much more Ted to find someone special and unique and new, someone that we haven't seen before and the whole idea is that Ted's never seen this woman before, so it better feel that way to the audience."
It looks like Milioti will have a significant role in the series' ninth and final season.  It's well deserved — she's a great actress and will gain a lot of exposure from playing a character viewers have spent years waiting for.