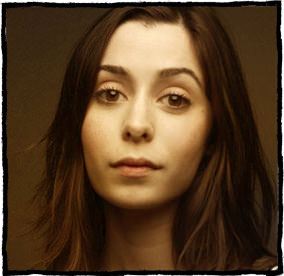 Once, a Broadway musical based on the 2006 Irish film, had a very successful off-Broadway run at the New York Theatre Workshop. 
In the lead female role as the show makes the move to Broadway is Cristin Milioti, an off-Broadway regular who spoke to Broadway.com about how she ended up in a musical even though she doesn't fit the typical perception of a Broadway star.
Though Once will now be appearing on a much larger stage, Milioti reveals that very little of it has been altered.  She says, "There were some line cuts, but essentially it's the same show [as at New York Theatre Workshop] and there's great trust as a company, which is helpful. We're all so thankful to be here. We get to play the most amazing music, and I think for almost everyone in this company, music is our number one love." 
Of course, comparing the two productions is one thing, but when asked to compare the show to the film Milioti has to plead ignorance — she actually has never seen the movie the show was adapted from!  She explains, "I hadn't seen it when I got the job, and then we started working and I didn't want to be influenced by anything; I just wanted to approach it on my own. But I can't wait to see it when everything's done!"  But Milioti did have the opportunity to perform the play in front of Marketa Irglova, who originated the female lead in the film, which she did find intimidating even though she never saw the movie.  She confesses, "The weird thing is, they did tailor the film roles to fit [Irglova and Glen Hansard, the male lead] because they weren't actors, but she was very clear with me that she was playing a role… As far as acting was concerned I knew that I wasn't playing her, but the first time she saw me play it was extremely nerve-wracking. You want to be respectful and do it the best that you can."
One of the most interesting aspects of the show is that since the characters are musicians, they play the show's music, which makes Milioti question whether it is actually a musical or if it would be more accurate to call it "a play with music."  She explains, "I go back and forth, because I think it really straddles that line. For the most part I think of it as a play with music, but that may be because I've never done a musical!"
Because of that musical element, Milioti admits that the auditioning process was more difficult and stressful than it typically is, especially since Milioti isn't an accomplished musician.  She says, "When I auditioned there was concern about my playing not being up to snuff, so I was given 10 or 12 days to learn 'The Hill' and a classical piece. My friend [Broadway vet] Santino Fontana is an incredible piano player and he wrote out these charts for me, and I sat every day for six or seven hours and I learned them. I had friends come and watch me so I wouldn't be nervous when I went in there. Once I had the part it was the same thing but less intense to learn the other four songs, maybe four or five hours a day of sitting and learning."
But while Milioti had to learn how to play, she certainly didn't need to learn how to sing.  However, Milioti had difficulty finding roles because he voice doesn't fit the typical Broadway mold.  She explains, "I've auditioned for musicals a lot, but I think my voice didn't really match what they were looking for. I went to school for musical theater for a year and dropped out. Legit musicals are not quite my forte. It's really a happy accident that the way I sing just worked for this."  Though she did try professional training, she didn't like attempts to make her voice fall more in line with the norm, pointing out, "I often felt like they were trying to change the way I sounded instead of embracing it, and I kind of bristled against that."
Once is currently in previews at the Jacobs Theatre.