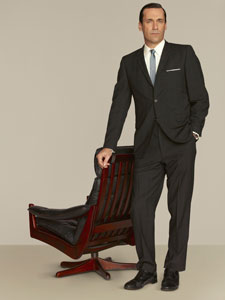 Don Draper isn't a very happy place right now (er, 1966) – his upstart advertising agency is struggling, another man is raising his children and even a saucy rendition of "Zou Bisou Bisou" from his beautiful young wife puts him on edge. Still, actor Jon Hamm  enjoys the character he plays on AMC's Mad Men all the same.
"I have an affinity for him," Hamm recently told Reuters. "I think he is complicated. He is often wrong, he is often spiteful, he is often mean. But I think we all know people like that, and I think he is coming from a place of pain and working through that… He is worth getting to know."
Mad Men's fifth season began in late March after a drawn-out, 17-month hiatus. Hamm, a budding film star thanks to the show, had plenty to do in the meantime, but he's certainly glad to be back on the set of television's most critically-acclaimed drama, which centers around fictional 1960s New York City ad firm Sterling Cooper Draper Pryce.
"I get to say all these great words and tell this great story. It is a dream job for an actor," he said. "As actors, we don't always get to pick our jobs. We get picked. So when something like this happens and you really enjoy it – that's hitting the jackpot."
Does Hamm have any idea where his character's story is headed this year? "(Series creator Matthew Weiner and I) have a fairly in-depth sit down at the beginning of every season and we talk for about 2-1/2 hours about the show and about life and about where it is going – very general themes and ideas and colors. And we talk about the next chapter. It is very non-specific, but it is always very thought-provoking."