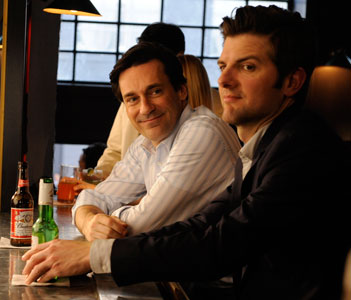 It's probably not hard for Jon Hamm to get cast.  But in the case of his new movie, Friends with Kids, he had an even better shot. 
Longtime girlfriend Jennifer Westfeldt is the writer, director and star of the movie, which also stars Kristen Wiig, Edward Burns and Adam Scott. 
In an interview with Vulture, Hamm confessed, "Fortunately I didn't have to sleep with the director to get this role; I just happened to be sleeping with her."
In the film, Burn's character dates Westfeldt's character.  Hamm said, "Actually, in a couple of the read-throughs in the early stages I read the part, but I think Jen and I wisely decided not to go that route and not to play opposite each other romantically.  I think it was a better choice." 
The actor admits that when real-life couples play onscreen partners "it just confuses the audience and is a little confusing in general.  And I think that people bring their own baggage and their own knowledge to that role and it's a little confusing." 
Not unlike Hamm's Don Draper on Mad Men, his character in the movie is also not entirely lovable.  Hamm said playing a jerk is "not the best.  But it is a character and that's what we do.  I mean, my day job is not exactly playing the world's most likeable guy either, but it's fun when you get a chance to do something that has kind of an emotional resonance.  And I love being funny onscreen as well.  But this is another thing that's fun to do, another color to show."
Luckily, Hamm has gotten the chance to show off his comedic chops as a guest star on 30 Rock and recently as Snooki's boyfriend on Saturday Night Live.