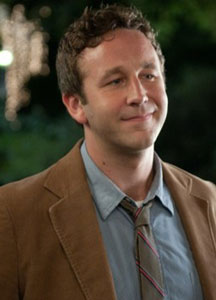 The new comedy hit "Bridesmaids" won over audiences this weekend, and one particular newcomer has women audibly ogling aloud in theaters and declaring their love via Twitter.
Chris O'Dowd, a 31-year-old Irish actor who lives in London, plays Officer Rhodes. He is still adjusting to the movie's success saying, "I'm overjoyed that it's doing so well, it's a hell of a ride!"
Dowd says it was a long improv session with "Saturday Night Live" star Kristen Wiig that helped him land the role. "Kristen was there with Judd and  Paul. We sat down and read this script, then we did a half an hour of improv… it went really well. Kristen is so easy to work with and she's just an amazing improviser."
Dowd first approached the character with an American accent, but it was his native Irish tongue that helped close the deal. "I went in and did it with an American accent, like I do in most auditions. It went fine, but the director knew some of my work, so he asked me to do it with my accent and it worked out better," he says. "I think they went for it in the end because they liked the idea of it being – it was never going to be formulaic – keeping any kind of normal structure away from it by putting this accent which is somewhat askew with the rest of the story, interested them."
Dowd's charming character is winning over audiences. The actor admits he snuck into a showing of the movie over the weekend to witness the audience reaction for himself. "It was a very strange sensation to hear myself being, 'awed.' It's very odd," he laughs.
Dowd will reunite with "Bridesmaids" co-stars Wiig, Maya Rudolph and Jon Hamm in the upcoming "Friends with Kids".
To read more: omg.yahoo.com