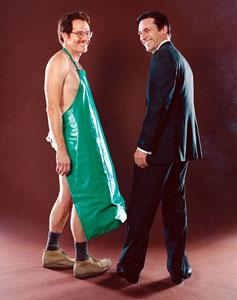 Looks like we're not the only ones obsessed with Bryan Cranston's portrayal of Walter White on AMC's Breaking Bad.  Cranston was recently named one of TIME magazine's 100 Most Influential People in the world.  To write about his achievements, TIME landed no less than Jon Hamm to talk up Cranston's talent.
First up was the first time the two met. "The first time I met Bryan Cranston, he was standing in his underwear. We were doing a photo shoot for a little-known network called AMC, and he was in a rubber chemistry apron, tighty whities and desert boots, while I was in an impeccably tailored 1960s suit, with slicked-back hair and a cigarette dangling from my mouth. Our shows hadn't premiered yet. We were simply two actors, in costume and out of context. He was friendly, funny, gregarious, humble and lovely."
Hamm went on to talk about Cranston's talent: "Over the past five seasons, I've marveled at Bryan's ability to turn Breaking Bad's Water White from a feckless, terrified father and husband to a ruthless, terrifying father, husband, and crime lord.  The transformation is mesmerizing.  The performance is fearless.  Bryan is that good.  I've had the pleasure of knowing him…as he as collected accolade after accolade, as his film career has flourished, as more and more people realize just how good he is.  Through it all, he has remained friendly, funny, gregarious, humble and lovely.  I know I'm not alone in my ravenous appreciation for the final episodes of Breaking Bad.  I also know I'm not alone in waiting with bated breath to see what Bryan does next."
The final eight episodes of the series will air August 11.