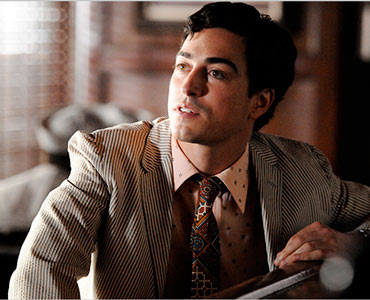 Ben Feldman recently won an Emmy nomination for his role as Michael Ginsberg on AMC's Mad Men.  It was a lucky break for an actor previously known for his work on Drop Dead Diva.
Coming into Season 5 of the acclaimed show was like "getting into a club that no one else is allowed into," Feldman told Huffington Post.  "At the same time, for a long time, I couldn't tell anyone I was even on the show.  There's so much secrecy involved that I spent a lot of time looking over my shoulder and making sure I didn't say anything wrong.  But it's really cool, especially now that I get to talk about it.  It was intimidating, scary and amazing."
Feldman had been a fan of the show from the start.  He said, "I was just blown away that I even got a part.  I would have been blown away if I'd played a waiter with no lines in one of the restaurants they went to.  So to actually be talking and working on scenes that were important—at least as far as I was concerned—was just an unreal experience to me."
One of the actor's favorite parts of being a part of the cast was the opportunity to work with Jon Hamm.  "When he's in character, he's in character, and there were moments where I was wondering, 'Wait, does Jon kind of hate me?' Feldman said.  "They're sort of one in the same when you're on set shooting.  But Jon's a great actor, really intelligent.  He directed my first episode, so I felt a little more comfortable by the time we did any acting together.  He was a part of my first time on the show, and I was a part of his first time directing.  It was definitely scary."
The Emmy's will air September 23.