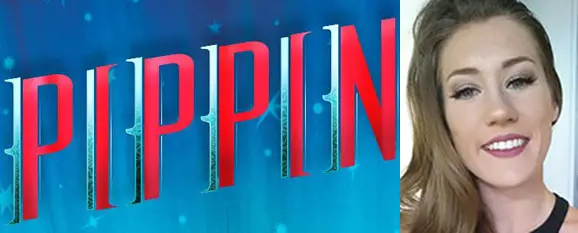 Haven't you ever wanted to run away to the circus and see all the stories they tell? Well, you're in luck because the Leading Player and the cast of PIPPIN is playing at the San Diego Civic Theatre so you have until Sunday, August 30th to join them as they've got "parts to perform and hearts to warm".
This version of the show is the high flying Broadway revival that won four Tony Awards and features choreography in the style of Bob Fosse and astonishing acrobatics by Les 7 Doigts de la Main.
Charlotte O'Sullivan is one of those adventurous and artful acrobats and I had a chance to chat with her on this version of the show and how her skills enhance the story.
First, Charlotte explains how this circus element is a part of this show.
Charlotte O'Sullivan: The idea of the show is that we go from town to town and present this show of PIPPIN. We are a circus troupe led by our leading player and want people to join us along the journey and through the story we use a lot of circus elements tell parts of the story through these elements.
So, what does her role as an acrobat involve in the show?
Charlotte O'Sullivan: I am a flyer and I always work with a partner. My partners name is Nico, and we do partner acrobatics together. Sort of like figure skating and dance lifts, but more acrobatic where I do handstands on his stands, stand on his hands, do backflips and he catches me again. These create the elements of excitement and death defying movements of the show. You can easily spot me throughout the show, if there is a flying girl across the stage then it is probably me," she says with a laugh.  "Hand to hand acrobatics is two people working together. I also do this with group work where a group of people will throw me across the stage and my partner Nico will catch me.
Normally, movement and dance is expected in a Broadway musical, but circus elements are a bit more rare. While Charlotte had done some acting in elementary school, it really was gymnastics and acrobatics that stole her heart.
Charlotte O'Sullivan: I started in gymnastics and I really enjoyed the performing element of getting on the floor to do the routine. My goal was never to do the hardest moves or go to the Olympics, I really loved the performing aspects of gymnastics and I was also inspired by dances and partner work in Latin dancing and things like that.
This Toronto native saw that there was an upcoming audition for a circus school coming to town and jumped at the chance.
Charlotte O'Sullivan: I know, right after you hear circus school, you think 'what'?" Charlotte says with another laugh. "My Mom always knew I loved performances like that, and encouraged me to tryout. I had 5 weeks to get ready for the audition and I decided to take it on as a challenge and I auditioned for the high school program. There was a list of the acrobatic elements, strength, flexibility exercise, some acting and dance. I ended up getting in and moving away at 15 years old to go to the circus school in Montreal. The school is entirely in French, and I didn't speak it that well at the time. It was one of the most challenging things I have ever done, moving away to go to school in French, but I it was one of the best decisions I have ever made. In those three years I discovered what I wanted to do which was become a flyer in hand to hand.
After that I prepared for the college program, which is a separate audition and is a three year program to be a well rounded circus performer. Now, a proud graduate of the National Circus School in Montreal, where she graduated from the three year program to be a well rounded circus performer, these skills come in handy in the show.
Charlotte O'Sullivan: We required to not only do what we specialize in, but to also back up the other roles if anything were to go wrong, or if someone is unwell. Unlike the actors and singers we don't have swings, so we back each other up. I have a background in aerial and can do the hoop act or the silks as well if needed. I really like adventure, so I guess I'm in the right place for that in a show like PIPPIN!"
Looking back she had no idea that all of this would be in her future.
Charlotte O'Sullivan: I remember the first time I saw hand to hand I thought 'wow that's amazing, I could never do that , it's too scary!' But here I am every night doing things I never thought I would ever do in my whole life. Sometimes I giggle at the end of the night and think 'Wow , I did all of that?'
So make your way to the San Diego Civic Theatre to see PIPPIN, because that girl who flying through the air with the greatest of ease is probably Charlotte and she and the cast of the show have magic to do.
PIPPIN is playing through Sunday, August 30th. Show times and ticket information can be found at www.Broadwaysd.com
To see more of what hand to hand acrobatics check out Charlotte and her partner Nicolas as they defy gravity!