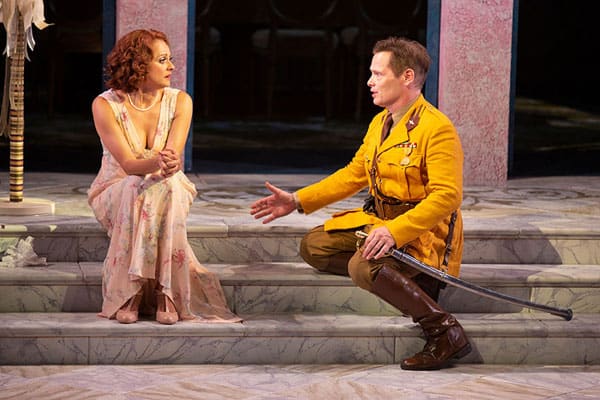 To borrow a line from a different Shakespeare play AS YOU LIKE IT, "The fool doth think he is wise, but the wise man knows himself to be a fool". While the line is from a different show from the bard, it is applicable to this funny, gorgeous, and emotionally resonant production of MUCH ADO ABOUT NOTHING where everyone thinks they are smart enough to fool others, while being fooled themselves.
With witty banter, likeable characters, and matchmaking shenanigans this play is one of Shakespeare's most popular comedies for good reason. Beatrice (Sara Topham) is a woman whose wit is as sharp as her tongue, and is never hesitant about engaging Benedick (Michael Hayden) a clever soldier to the Prince Don Pedro (Michael Boatman), in a battle of wits.
The company of soldiers is coming from a battle to find some rest at the home of Leonato (René Thornton Jr.), his daughter Hero (Morgan Taylor), and her cousin Beatrice. Accompanying the Prince and Benedick is the brave young soldier Claudio (Carlos Angel-Barajas), and Prince's brother Don John (Manoel Felciano).
The complicated, but well-meaning deceptions start early in the plot with the Claudio enlisting the Prince to help Claudio woo the fair Hero into matrimony. This allows the socially awkward and mischief making Don John an opportunity to see what trouble he can cause and happiness he can thwart.
Happily, they dodge the first attempt at disruption and they get engaged, and delirious in young love, they turn their focus to convincing Beatrice and Benedick that they too are each other's heart's desire. The friends set up complicated schemes of overheard gossip to trick Beatrice and Benedick into realizing their true feelings for the other.
Alas, "the course of true love never did run smooth" (Shakespeare really has a quote for everything) and Don John finds he is not content with all this love and happiness. His second plan is successful and Hero and Claudio have a wedding day that leaves one character "dead", another character calling for someone's death, and really proves that weddings are sometimes more drama than they're worth.
Topham and Hayden are a dynamic duo as Beatrice and Benedick. The electricity crackles and pops between them when they banter, making the romantic comedy trickeries that help them fall in love that much more entertaining. Their flirting has just enough heat, and the actors bring vitality and enjoyment to the nuances of their dialogue.
Thorton Jr. is terrific as the hospitable turned incensed Leonato, while Boatman makes Don Pedro a stately and good natured prince with some touching, if fleeting, moments of sentimental wistfulness towards Beatrice.
Taylor as Hero and Angel-Barajas as Claudio make the young lovers charming, right up until the aforementioned wedding when Claudio loses his damn mind. (I yearn for the day I see a production where Hero at least slaps Claudio for his reckless behavior prior to starting their happily ever after).
Felciano's mischievous and lively portrayal of Don John truly makes this character stand out. His partners in crime are Borachio (Eric Weiman) and Conrade (Yadira Correa), who round out this commotion causing trio.
The villains are thwarted by the most unlikely of people, the inept constable Dogberry (Fred Applegate) and his band of barely competent watch people who inadvertently uncover the misdeeds. Always an audience favorite due to the ridiculous inaccuracy of his language, Applegate's Dogberry is an amiable fellow, which makes his logical and verbal pratfalls seem very natural if lack some of the fervor of some other portrayals.
Directed by Kathleen Marshall, this show finds the magic in the mischief of this smart comedy that harkens back to old movie pairings like Rock Hudson and Doris Day; where there is a thin line between love and hate as evidenced by their rapid fire, romantic sparring.
The physicality in the scenes where Benedick and Beatrice overhear their friends discussing the other makes the most of the idea that friends have been showing their love for one another by meddling in their lives and having a little fun while doing it. But for all the levity, there is a vein of drama that runs through it so the calls for vengeance feel real and not out of place.
The set by John Lee Beatty is a gorgeous pink villa that evokes the sense of a sun drenched Italian estate, with a beautiful courtyard for all events from mischief to masquerades. The costumes by Michael Krass go from sporty bathing suits and loungewear, resort style linens, to silky gowns and finely cut tuxedos. All of this is enriched by the talented musicians Abigail Grace Allwein on violin and James Michael McHale on guitar, with an assist by Felciano on the fiddle in the finale.
MUCH ADO ABOUT NOTHING is a perfect summertime romantic comedy that you don't want to miss. Playing on the Lowell Davies Festival Theatre at The Old Globe through September 16th, for ticket and show time information go to www.theoldglobe.org