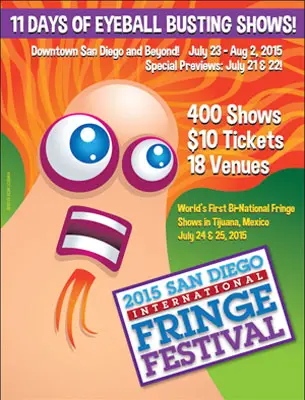 With over 18 performance spaces, the San Diego International Fringe Festival is bigger than ever!
Running for 11 days (today through Sunday, Aug. 2nd), the festival will feature everything from performance art, cabaret, monologues, family friendly shows and yes, even burlesque. There's definitely something for everyone this year.
Here's a few shows on our radar:
Oak & Linden: If you were granted you one wish, what you would you ask for? Oak & Linden is a story of generosity, humanity and love. A modern theatre piece adapted from an ancient myth that is told through spoken word, dance, and multimedia. It is the story of Ovid's Baucis and Philemon. This timeless tale explores transformation, the power of mortal love and beautiful acts of kindness to mere strangers.
My Mother's in the Audience: My Mother's in the Audience is a new hilarious dark comedy about four murderous mothers who volunteer backstage at opening night of their children's production of Macbeth. When an award is announced for the best stage mom in the region, the mothers leap at the chance (and each other's throats) to win. Between bribery, sword fights, and Satan, which mother will be the last one standing?
Sizzling Circus Sirens: Taking inspiration from the era of Vaudeville's inception in America – "Sizzzling Circus Sirens" brings together theatrical variety entertainment that sizzzles. Witness feats of improbable circus, sexy burlesque dancing showgirls, snaky belly dancers, high flying aerialists, freaks on stilts, juggling jesters and hula hooping hotties.
Jay & Charlie Get Drunk: Charlie was dumped. She's NOT okay. Her best friend, Jay, tries supporting her with beers, but Charlie wants more. Along with their brilliant marijuana dealer, Steve, they hatch a sinister plan to take down Charlie's ex… by toilet papering his house. But first, they must get drunk.
Big Shot, The Musical: Direct from Ireland, US premier of Big Shot. A musical that tells the tale of murder, love and living in the moment. Featuring a blend of energetic number and suitable amount of drama one would expect from a Broadway-style musical.
For more information, showtimes and tickets: sdfringe.org