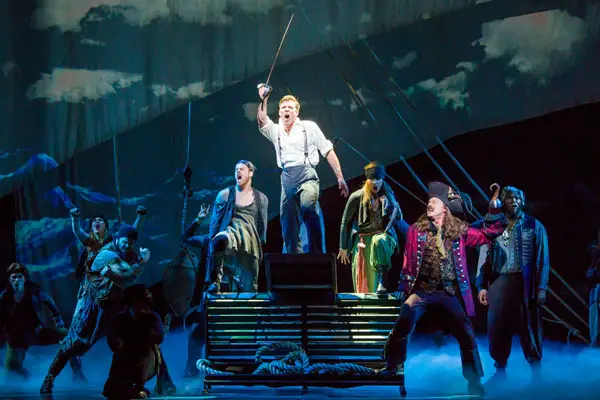 With outstanding performances, a beautiful set and lighting design, Finding Neverland should easily put a smile on your face.
The show, based on the film of the same name, tells the story of J.M. Barrie (Billy Harrigan Tighe) and his budding relationship with the ailing Sylvia Llewelyn Davies (Christine Dwyer) and her four sons, Peter, George, Michael and Jack. Barrie, who has become something of a father to the boys, is in the midst of struggling to write another play. It's during one of his games with the kids that the story of Peter Pan is born and with the help of producer Charles Frohman (Tom Hewitt), the show quickly becomes a success.
Tighe is terrific as Barrie. He's got a playfulness to him that works well in scenes with the kids and Sylvia. Hewitt plays both Frohman and Captain Hook. The two characters are both sides of the same coin and each are totally different and lovable, in that rapscallion kind of way. And Dwyer shines, especially in her last scene, which is beautiful to watch.
The ensemble deserves some attention as well. At first, it feels like they are overacting each scene but it really works. Each time they're on stage is funnier than the next. And Dwelvan David, who plays one of the actor in the troupe, has the funniest line in the whole show.
The show isn't without its faults though, namely the songs. They are unmemorable and you'll struggle to even hum one of them the following day.
Directed by Tony winner Diane Paulus, its got the energy and beautiful, vivid colors that she brought to her previous shows, Pippin and Hair. The show is a winner, despite the music.
Finding Neverland is currently playing at the San Diego Civic Theatre through April 9th. For tickets and more information: Broadway San Diego