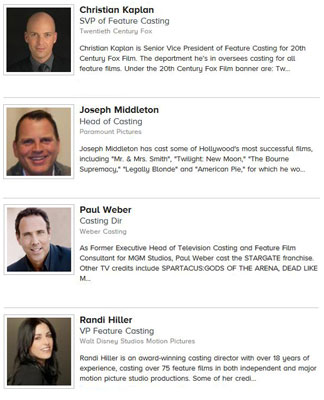 While the South by Southwest Festival is known for its many film premieres, like many film festivals SXSW's programming also includes industry panels. For actors, perhaps the most notable panel was one featuring casting directors describing what goes into making their decisions, from money paid to talent through the positives and negatives of discovering new talent on the Internet. The panel featured four prominent casting directors — Christian Kaplan from Fox, Joseph Middleton from Paramount, Paul Weber from Weber Casting, and Randi Hiller from Disney.
Surprisingly, Middleton told an indie filmmaker in the audience who was working on a film under a $1 million budget that his dream of getting Oscar-winner Marisa Tomei for a role was indeed possible. He said, "I would pay her $150,000 from a $1m budget and a point or two from the back end… Everyone wants money up front." Hiller suggested that Tomei should also be offered additional compensation in the form of bonuses when the film reached certain benchmarks, such as box office and awards. In that sense, it encourages actors to support their films with an incentive to do publicity.
Hiller discussed how even extremely talented actors are not the best fits for any role because they "operate on the same base energy sphere." She used Kevin Spacey as an example of an actor who "is not particularly warm" and would not be anyone's choice for a happy-go-lucky character. She also pointed out that many factors go into casting and in some cases actually acting ability "may only account for 7% of the reason a particular actor would be cast in a role." Other factors include age, ethnicity, and value to foreign box office. In fact, all four agreed that studios were making an effort to make their films more diverse in terms of casting.
Kaplin said that many casting directors are using YouTube and Vine to scout new talent, though Weber admitted "Often they come alive on camera but they're not well-trained." In fact, Middleton added that the box office value of such social media stars wasn't clear because "you see that person for free every single day."
Of course, effort remains the key. The casting directors spoke about filing away a talented actor's tape if they knew he or she had talent, but didn't have a project for that particular actor at the moment. Because of that, a failed audition might just end up being a success in the long run.
via The Guardian