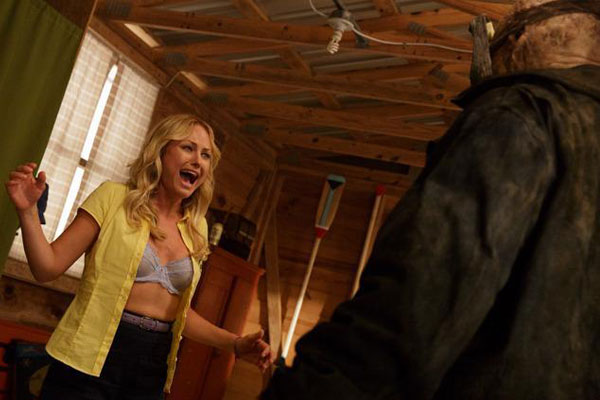 Imagine a cross between Scream, the Friday the 13th films and Drew Goddard's The Cabin in the Woods and you'd get The Final Girls. The film is ridiculously entertaining and like Scream before it, sends up horrors movies in a whole new way.
The Final Girls is about a high school senior named Max (Taissa Farmiga) who recently lost her mom (Malin Akerman), a famous horror movie scream queen from the 1980s, in an accident. Months later, a local theater is having a tribute to the famous film and a reluctant Max and her friends show up to watch the film. As the film unspools and through the magic of cinema, they end up in the movie. Like end up in the actual movie.
Max and her friends, including Thomas Middleditch and Alia Shawkat, are trapped inside the film, forced to live through every 92 minutes of horror campiness. We get the horny camp counselor (Adam Devine) and every stereotypical character you'd find in an 80's horror film and most importantly, Max is reunited with her mother's character. Together, they must all figure out how to finally kill the slow moving killer and return back to real (not reel) life.
Written by M. A. Fortin, Joshua John Miller and directed by Todd Strauss-Schulson, the film is very funny thanks – to Devine and Akerman – and even touching. There are some scenes between Ackerman and Farmiga that are so sweet, one might wonder why they're even in the film at all, but trust me, those small parts equal a nice whole.
Strauss-Schulson has some very clever camera work throughout the film (the credit sequences in the beginning and end are a testament to this) and he creates suspense from scenes that have we've already seen several times.
I'm not the biggest fan of horror films but The Final Girls totally won me over. OK, slayed me. I tried not to write that but couldn't help it.