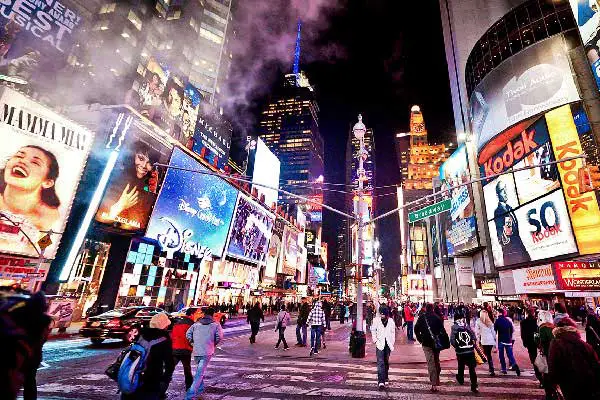 Broadway doesn't need your regards — it already has your money.
Manhattan's Theatre District is celebrating its most successful season in history. The Broadway League has announced that Broadway attendance for this just-concluded season — running the first week in June to the last week in May — was a staggering 13.10 million, a seven percent rise over the 12.21 million who attended the 2013-2014 season. Total grosses for the year amounted to $1.37 billion, an eight percent rise from the previous season.
According to the New York Times, much of the increase can be credited to increased tourism to New York and Broadway's efforts to make outreach to tourists before they even arrive in New York.
Most surprisingly, only 37 productions opened during the 2014-2015 season — 15 musicals (10 new, 5 revivals), 20 plays (11 new, 9 revivals), and 2 specials — compared to 44 productions that opened during the 2013-2014 season. Of course, not every production was successful — this season saw flops like The Last Ship, Side Show, and one of the biggest disasters in history, Holler If Ya Hear Me. The top seven shows (The Lion King, Wicked, The Book of Mormon, Aladdin, Beautiful: The Carole King Musical, Kinky Boots, and Matilda) accounted for more than a third of the gross. In fact, The Lion King set a record for highest-grossing Broadway production in a single season with a $102 million take.
One factor the press release doesn't cover is how much the gross can be attributed to rising ticket prices. Shows have increasingly sold "premium" tickets for the best seats in the house at inflated prices, although Broadway has also made great strides in offering discounted tickets to fill houses via TKTS and other outlets. The 2013-2014 season's increased grosses could mainly be attributed to increased ticket prices, a fact that the Broadway League tiptoed around in its press release last year and didn't even address in its press release this year. We're looking forward to analyzing the ticket price figures when they become available.
Regardless of how much a ticket is costing you, Broadway has a lot to celebrate right now heading into the Tony Awards on June 7. Hopefully the Broadway community doesn't drink all the champagne before then.