We're still talking about Spider-Man: Turn Off the Dark?  The big Broadway musical that could is still in the news these days, selling lots of tickets despite so-so reviews and the fact that the "new and improved" safer show has more-or-less eliminated the what were once daily accidents that people seemed to buy tickets just to catch a possible glimpse of.  Maybe this Spider-Man kid has a future in showbiz after all.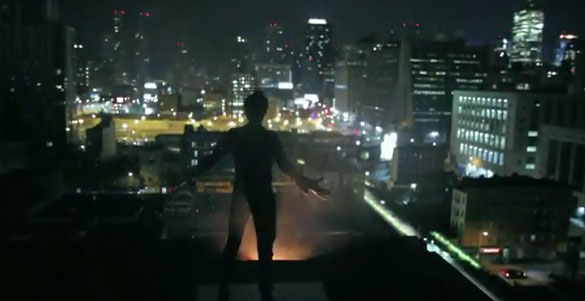 Still, the recent strong ticket sales doesn't mean the show — along with the recently released original cast recording soundtrack — couldn't use a bit of promotion so in a rare move a music video of one of the show's signature songs, "Rise Above 1", has been created.  The video stars Reeve Carney, the on-stage Peter Parker, along with songwriters Bono and The Edge of U2.  In fact, you may not notice that the video is actually a duet between Carney and Bono since Carney sounds remarkably like the U2 frontman, which goes to show you that if his Broadway career doesn't work out Carney could also make a few bucks in a U2 tribute band.  It also shows some behind-the-scenes footage of the cast soaring through the theater, and thankfully there's no accidents here.  Although Bono and The Edge aren't typically at the Foxwoods Theater performing with Carney, it's a great way to promote the show (yet I'm pretty sure anyone who wants to know already knows that the U2 duo wrote the show's songs).
Check out the new music video below!
[youtube https://www.youtube.com/watch?v=PomErClAIFk&w=585&h=363%5D