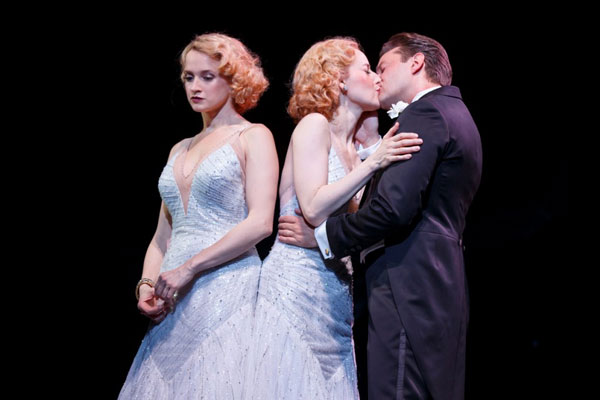 This is why we can't have nice things.
The critically-lauded, dazzling new production of Side Show, which was just named one of "The Best Musicals of 2014" by Charles Isherwood of The New York Times, will play its final performance on Broadway on Sunday, January 4, 2015.
Discussions are currently underway for Side Show to make its London debut.
I saw the show when it premiered at the La Jolla Playhouse and thought it was outstanding. I'm beginning to think that if a Broadway show doesn't play to the lowest IQ for those traveling to New York City, it's not going to succeed.
Side Show is currently playing at Broadway's St. James Theatre, where it began performances on October 28, and officially opened on Monday, November 17, 2014 to rave reviews. The production is directed by Academy Award® winner Bill Condon, making his theatrical directorial debut.
Side Show is inspired by the remarkable true story of the Hilton twins, Daisy and Violet, who were legends in their time and the highest paid performers on the vaudeville circuit. Side Show is their heartwarming search for first love and acceptance amidst the spectacle of fame and scrutiny under the spotlight.
Erin Davie and Emily Padgett, returned to Broadway in their respective leading roles as Violet and Daisy Hilton. The cast also includes Matthew Hydzik as Buddy Foster, Robert Joy as Sir, Ryan Silverman as Terry Connor, and David St. Louis as Jake. The ensemble of side show characters include Brandon Bieber as the 3 Legged Man, Matthew Patrick Davis as the Geek, Charity Angel Dawson as the Fortune Teller, Lauren Elder as the Venus di Milo, Javier Ignacio as the Dog Boy, Jordanna James as the World's Tiniest Cossack (female), Kelvin Moon Loh as the Half-Man Half-Woman, Barrett Martin as the Human Pin Cushion, Don Richard as the Reptile Man, Blair Ross as the Bearded Lady, Hannah Shankman as the Tattoo Girl, Josh Walker as the World's Tiniest Cossack (male), with Con O'Shea-Creal, Derek Hanson, and DeLaney Westfall.
Now go see this show while you still can. Click here for tickets.