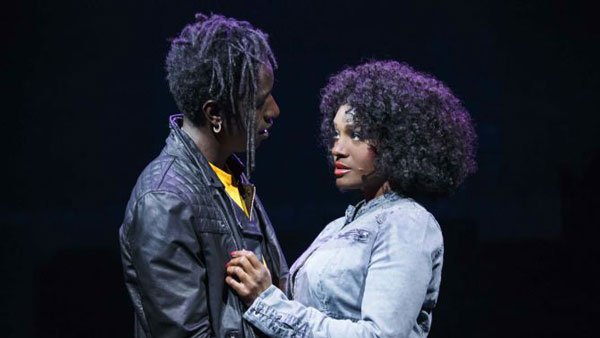 Holler If Ya Hear Me, the Broadway musical featuring the music of Tupac Shakur, might be the only new musical on Broadway this summer but unless there is a dramatic change in business soon it likely won't last to see fall.
According to The Broadway League, in its first three weeks the musical has grossed $483,202 or just 19.47% of the production's total gross potential. Though the top ticket price is $173, in the first three weeks audience members have spent an average of $27.10 per ticket. While that has allowed theatergoers to see a Broadway show at a steep discount (tickets have regularly been available at the maximum 50% discount at TKTS booths), it obviously is not good news for the production, which needs those tickets to be sold at closer to face value  to turn a profit.
Even more troubling is that it appears that even offering cheap tickets didn't pack the house last week. While the production played to 81.17% capacity for its first week of previews, in the third week — which featured the final two previews, opening night, and five other performances — attendance dropped to 58.46% capacity. While week 3 was the highest grossing of Holler If Ya Hear Me's run so far because the average price paid for a ticket rose to $32.84, it was marked by a gross increase of just $7,066 over the previous week.
A good comparison is the recently-shuttered musical The Bridges of Madison County, which closed May 18 after an eighteen week run. Both Bridges and Holler had reported costs of $8 million (source, source). However, during its first three weeks The Bridges of Madison County managed to make 43.49% of its gross potential, more than double Holler If Ya Hear Me during its first three weeks. In fact, The Bridges of Madison County's lowest-grossing week brought in $212,261, and that was the first week of previews in which there were only three performances. To compare, last week Holler If Ya Hear Me grossed $170,652 for eight performances, and that was the highest week so far.
While The Bridges of Madison County likely had higher week-to-week costs considering it featured big names like Kelli O'Hara, Steven Pasquale, and Hunter Foster, that doesn't mean the warning signs are less troubling for Holler If Ya Hear Me. The cast still boasts Broadway veterans like Tonya Pinkins, Christopher Jackson, and Saycon Sengbloh. In addition, while The Bridges of Madison County received generally strong reviews (and later won Tony Awards for Best Original Score and Best Orchestrations even after it closed), the reviews of Holler If Ya Hear Me have been lukewarm at best.
In other words, if you're interested in seeing Holler If Ya Hear Me, see it as soon as you can. Heck, see it twice. The production could use all the support it can right now!