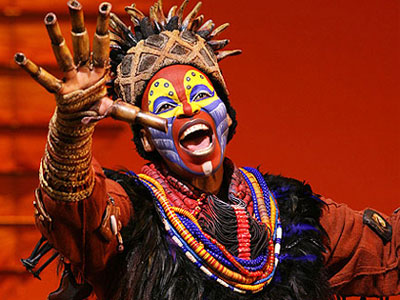 Not bad for a play based on a Disney cartoon, right?
The Lion King, the groundbreaking and award-winning Broadway musical based on the 1994 Disney animated classic, has officially become the fifth longest-running Broadway show with performance #6,138 on Wednesday.  The show premiered in 1997 at the New Amsterdam Theater, later moving to its current home at Minskoff Theatre.  It takes the spot from A Chorus Line, which ran from 1975 to 1990.  This is the second time this month that A Chorus Line has been mentioned in the news after the musical's composer, Marvin Hamlisch, died on August 6.
The Lion King also holds the record for highest-grossing Broadway show, beating out its rivals based on its higher ticket prices.  Two shows ahead of The Lion King on the longest-running list are still running, including Chicago (#4) and The Phantom of the Opera (#1), with Phantom being the first Broadway show to surpass 10,000 performances earlier this year in its twenty-two year run (and counting!)  So while passing Phantom might be difficult, there is still a very good chance that the very popular Lion King will end up passing the other feline-focused musical on the list, Cats, which currently sits at #2 with 7,485 performances.