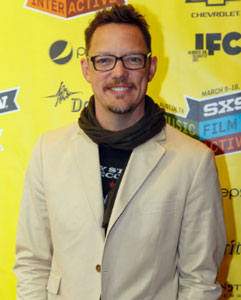 Matthew Lillard makes his directorial debut with the charming new film, Fat Kid Rules the World.
It's the story of Troy Billings (Jacob Wysocki), who at seventeen is overweight and suicidal. As the poor kid is about to jump in front of a bus, he's saved by Marcus (Matt O'Leary), a high school dropout and street musician. The two become friends when Marcus asks the musically challenged Troy to become the drummer his punk rock band. But the more the two bond, the more concerned Troy's father becomes.
Matthew is having a great couple of months. He starred in the Oscar nominated film, The Descendants, was cast opposite Clint Eastwood and Amy Adams in Trouble with the Curve and Fat Kid debuted at this years SXSW festival to great reviews.
I talked to Matthew at SXSW and man, he was great. I could have chatted with him for hours. He sat and two of its stars, Lili Simons and Dylan Arnold,  sat down to talk to me at SXSW about what its like to be on the other side of casting, his directing style and why he choose to make Fat Kid his debut.
What was it about the story that made you want to make it into a movie?
Matthew Lillard:  It's a kid lost, you know, and I understood that. I was a kid lost. He finds punk rock music and I found acting and drama. And so that resonated in me in an incredible way. And then I liked the energy of it and I like the stakes of it.  I stayed with it for so long because I felt like I got that kid.  I also believe in making movies for these kids, specifically. I mean the demographic of kind of disenfranchised youth.  Nobody really focuses on them.  I think that I relate to them so that's why I wanted to make the movie.
Why did you decide to finally direct?  Did you just want to do something else?
Matthew Lillard: Yeah, I think so.  You know, I've directed my whole life. I've just never had a chance to do a movie.  You know, they're hard to do, and it's hard to get someone to believe in you enough to write a check.  I finally got the chance and I like it.  I love doing it.  I like it better, more than acting, to be honest.
I mean, I've been an actor since I was 13, so that's a long time doing the same thing.  I love teaching acting.  I teach at Vancouver Film School and that's a big part of my life.  Being an actor is so myopic.  It's all about you, you, you.  And quite frankly, I like leading a big group of people to try to do something fantastic and it's way more interesting to me than about my pathos. 
What do you think of online distribution and the new alternative methods of distribution? How can independent film makers like you benefit from that?
Matthew Lillard: I think there's no doubt that that is the future of our industry, especially as independent filmmakers.  It's untapped but I think it's still coming around.  It's still finding how to capitalize on those distribution avenues.  It's cheaper to make a movie now than it's ever been, but it's also harder to find the people to make back that money.
I mean my goal right now this weekend is to release the film, let people see it, show them the talents of these guys, but it's also to find the money back that was invested in this film.  That's the only thing I really care about.  Yes, I would love for the world to see it.  That would be huge.  But the reality is, the man that wrote that check, has to make that money back. 
It's hard because if you get an internet distribution deal, the minimum guarantee on that won't cover much of anything in terms of the expenses.  So right now it has to find a parallel and I believe that it will. It's just a matter of how and when is that going to happen.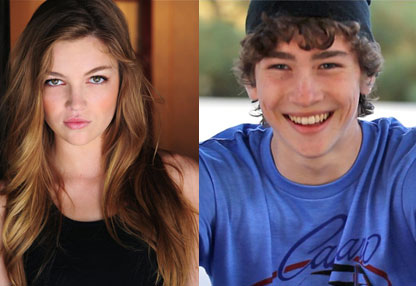 Lili and Dylan, what did you use to motivate yourself for your role?  Did you have anything to pull from?
Lili Simmons: Well, okay, I love what Lillard did for me.  He really pulled out my awkwardness, because I am a weirdo and I am very awkward.
Matthew Lillard: They all see that.
Lili Simmons:  Yeah, I know, crazy. [laughs]But yeah, he really pulled it out for me and got me to be real, be myself.  I mean like, I learned to love the punk rock music.  I love all kinds of music, so if you just introduce it to me, I will fall in love with it.  I'm a musician as well so I really got into that aspect.  I would listen to punk rock before I would go on sometimes.  I would hang out with the boys all the time and just get pumped up by them.  I honestly stayed in the Isabelle character the whole time.  It was really good.  I just felt like myself the whole time.
Dylan Arnold:  In terms of  my character, I know a lot of people, like I'm not a huge jock, I played baseball but I'm not the popular douchey jock dude.  But I know a lot of people like that from my public school, who wear the basketball shorts down and walk around doing 'yeah, what up dog?' And I kind of drew from that. 
In terms of performance wise, I think the biggest part was from this guy Matthew, right here, at the dinner table scene where he just basically told me to talk.  You're just talking to your brother.  And I think performance wise, that was the biggest thing for me because he just kind of explained it in a way that I could understand.  I feel like he's an actor's director.  He explained it in a way that I could understand and just said talk to your brother and that was the most helpful thing. 
Matthew, since you've been on the other side of the casting couch, so to speak, when you were casting this film, did you do anything different?
Matthew Lillard:  I feel like I can see, for better or for worse, I feel like I can see through an audition pretty quickly. With Lili, she came in late, she was stuck in traffic.  It was that thing where she did it once and I thought she was flustered and tight.  And we just went out and had a conversation and brought her back. We had seen across the board, hundreds of girls, not hundreds but we had seen a lot of girls.  But when she walked in she just had this energy about her that I responded to. 
It was the same thing with Dylan.  We had seen all these kids in Seattle and we saw his tape I said to him last night, like in 20 seconds, the producer and I came to blows over this character.  I thought we'd found the kid and the casting director threw in one last tape and it was his, and in 20 seconds, we both looked at each other like 'oh, that's our guy.' 
There's clarity to it, you know?  Something happens and you know when you know.  We had great kids come in and audition for Marcus, Matt Leary's character, unbelievably talented guys.  But you see something that sparks something in you that you respond to.  It's really a matching of energy and when you know, you know.
I love actors.  I know a lot of times a kid would come in and I'd tell them right off the bat, look, 'I love you and I think you're a great actor, but you're not this guy.' And they'd be like 'what, why do you say that?'  Because I would want to know, I want you to know that you just kicked ass, but you're not my guy.  And a woman, there was a woman that I loved, she was an amazing actress, and I was like 'you're not the girl. You're beautiful but you're too put together.' That was the great thing about Lili.  Lili has an undeniably exquisite beauty.  I mean she is drop dead gorgeous, and such a dorky kid, that you can have both.  That was the thing that, you know, a lot of beautiful women in Hollywood couldn't find.  She just had this really beautiful energy.  And then with Jacob [Wysocki], you know, we just got lucky.  He was one of four kids that we saw and he's just so simple, put a camera on him and he's just got so much going on and I love him.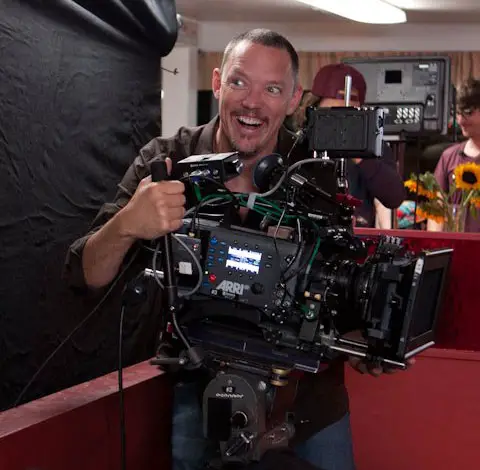 Matthew, what's your advice to actors?
Matthew Lillard: My advice to actors is to go to school.  Continue to train.  I think if you were a professional basketball player, and you didn't work for six months shooting baskets, you wouldn't be a very good basketball player.  That's what happens when actors just stop training. There's no craft in the world that you can just stop and expect to be incredible at. That's my number one to actors.
I also say you have to start creating your own material, now more than ever.  There is no work out there. It's harder than ever being able to make a living and feed your family, so you have to start creating your own.  Technology provides the opportunity to do that these days at an inexpensive price point.  And there's no reason somebody can't write.  So, you have to start doing your own shit.
How was he as a director?
Lili Simmons:  Phenomenal. 
Dylan Arnold: The best.  Best, best director.
Lili Simmons:  I've had a few great directors and this guy just brought out the best in me.  He's amazing, I love him.
Matthew Lillard:  Neither one of them have ever done a film before, they have no idea. [laughs]
Dylan Arnold: Well, yeah, you're my first film director, but out of all directors, like theatre and all that and I did like a student film at my school.
Matthew Lillard:  I'm better than that guy!
Jacob was just telling us that you would come up and say you only have one shot at this scene. That, 'we are only shooting this today.'  For me, because I'm an actor as well, I would be just completely stressed to hear that, you know? Matthew Lillard:  That's not what I said.  It's very different.  My whole thing is look, 'you have an opportunity right now to be brilliant and we're not coming back tomorrow to give it another chance, so there is no fear that nothing should stop you from being genius and amazing right now.'  So that's a very different thing than you have 'one chance.'  I think it's important to recognize the difference you know.
Still, for me, that would be like …
Matthew Lillard:  No it wouldn't.  It would never be that. Trust me.  My whole thing is you have this one moment to try to be fucking amazing, so let's go for it.  Because the time is right now, let's go for it.  I think it's empowering.  I want everyone to be brilliant and I think you have to aim for genius. Now you may not hit that, this movie isn't perfect in any stretch of the imagination, but if you try to make something incredible you have a chance of making something on the spectrum.  But if you're like, 'oh let's just get the day. Let's just get the shots.' 'Let's just?' Then you'll never have a chance to do anything else other than just another movie. 
Lili Simmons:  I agree.  I mean it didn't scare me when he said that. It inspired me.  I would be like 'okay, let's do this.'  It pumped me up. It didn't scare me.  This is an independent movie.  We don't have like 20 million dollars in this movie.  He needed to get the shot, he needed to pump us up for that, and he did and he did a really good job with that.  It was great. I loved it. It was awesome.