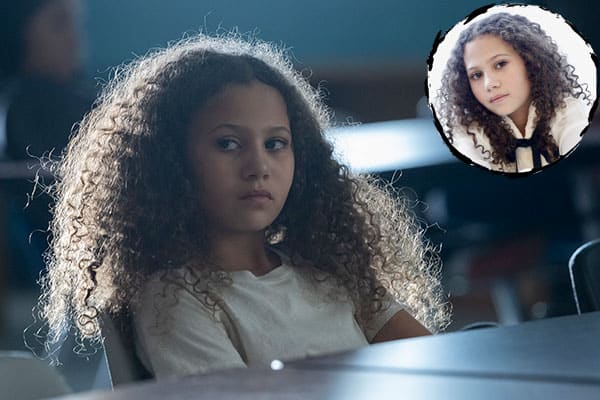 "Stay true to yourself because we are all individuals who have something unique to bring to the table" – Bryce Lorenzo
Bryce Lorenzo was the breakout star of SyFy's now cancelled series, Happy!, where she played Hailey, the daughter of a cop-turned-hitman (Christoper Meloni).  The show was fun, crazy and inventive, thanks in part to Lorenzo, Meloni and an animated flying creature named Happy, voiced by Patton Oswalt. She was terrific and you definitely haven't seen the last of her.
In this interview, she talks about how she got the part in Happy!, working with Christopher Meloni, her worst audition and advice to young actors.
How did you get the part in Happy!?
Bryce Lorenzo: I got called by my agents to go on an audition for the show and remember thinking that the character was very cool and I would totally want to play her. I remember when I got the call my mom and I were about to get on the train and when we saw that it was my manager we jumped off the train to take the call. Then they told me that I had booked Happy! and I was filled with joy because this was going to be my first recurring role on a show. It was was also my mom's birthday so that was the highlight of her day!
There is a lot of crazy stuff happening on the show. What's the craziest thing that you've had to do?
Bryce Lorenzo: The craziest thing I had to do was probably attempt to kill Sonny Shine because I actually had to hold a real gun and it was really scary. Everyone on set was a kind of scared of me for that scene but it made me feel a little bit like a rebel!
How was it working with Christopher Meloni? 
Bryce Lorenzo: Working with Chris was incredible because he is such an experienced actor that I was able to pickup on his different techniques and learn so much from him which helped me develop in to a better actress.
Did he give you any acting advice or tips?
Bryce Lorenzo: He did. He taught me that less is more and that you can sometimes improvise on scenes if you feel like it is right for the scene and the character.
What's your advice for kids who want to become an actor?
Bryce Lorenzo: My advice is to stay true to yourself because we are all individuals who have something unique to bring to the table. Also, always believe in yourself because it's a very tough journey and if you work hard and never stop believing, eventually you will succeed.
What's your most embarrassing audition?
Bryce Lorenzo: My most embarrassing audition was probably for a movie that I ended up booking. The first audition I messed up all my lines and was completely embarrassed. I was seven years old so I was very sad about it but I ended up getting a call back and remember thinking,"Wow! Maybe they did like me!" And then I did another call back where I had to say what my favorite TV show was and I couldn't think of an answer so I was just standing there with a blank face. Finally on the last callback I felt more comfortable and I ended up booking the role! But there were definitely a few embarrassing moments getting there.