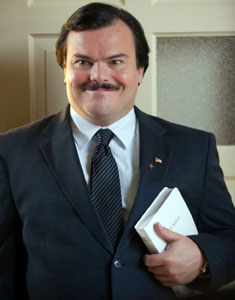 I recently caught a screening of Bernie starring Jack Black, and it's definitely one his best acting roles he's ever done.  In the Richard Linklater film, Black plays Bernie Tiede, a infamous real-life unlikely murderer from East Texas who locals call the kindest man they ever met. Part of the reason why the film is so impressive is that Linklater has managed to take a horrific murder and somehow make it into a comedy.  Black talked to MovieFone about the challenge of starring as Tiede and shared his praise for Linklater.
Black admits that portraying a real-life individual was a difficult experience for him, saying, "It was intimidating to play a real person because it's in the back of your head the whole time. What are they going to think when they see it? Are they going to think I did it wrong? Did I not capture who he is? I remember sitting there with him, listening to him talk and feeling a bit light headed. I had a weird sensation that my hands were getting too big, like they were blowing up because I was staying so still. I was so nervous. There's something about playing a real person — I'm not accustomed to that kind of pressure."
Bernie is the second time Black has worked with Linklater, who directed Black in 2003's School of Rock, and Black praises Linklater's more theatrical approach to directing.  He explains, "Linklater's the best. He's old-school in that he likes to rehearse. He comes from a theater background where he likes to read through the scenes and work the nuances and change it based on the rehearsals. Whereas most directors I've worked with, almost all of them, there's no rehearsals. You just show up on the day and act for the first time in the scene on camera. Then he'll push the envelope at the same time; he's super new school."
Bernie opens on April 27 for a limited release and expands to more theaters on May 4.