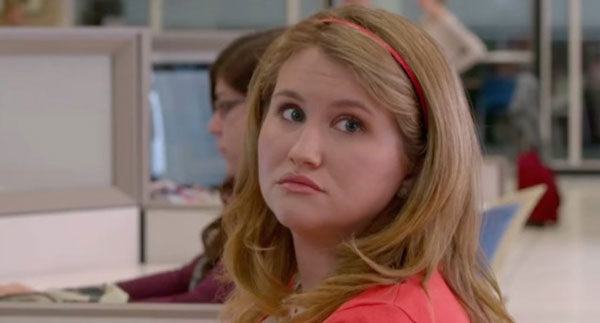 22 Jump Street hit theaters last weekend and audiences were treated to a breakout performance by Jillian Bell. She plays Mercedes, Maya's [Amber Stevens] roommate, who's always throwing insults at Jonah Hill's character, Schmidt, with such deadpan comedy.
HuffPost Entertainment talked to the actress via email about her role in the summer hit.
Bell explained what her audition was like for the film, "I was incredibly nervous before walking into the room because I knew Jonah Hill was going to be there. He's always been one of my favorite actors and as far as improvisers go, he's at the top of the list. So, I go in and he instantly calmed my nerves by saying to everyone in the room, 'She's really funny, this is going to be great.' He is such a nice guy and very supportive. And for 20 minutes we just improvised, and I insulted him as much as I possibility could. Ha!"
Insulting Hill in the audition room was successful because she got the role and she has most of the scene-stealing moments in the blockbuster sequel.
"I didn't know much about the character going into the auditions, but I just thought she was really funny and I would love to be a part of it. I saw the first one twice in the theaters, so I was a fan," she said. "The night before the table read, they sent me the full script and that's when I found out what happens to my character throughout the movie. No spoilers. 😉 Then when we started shooting, I saw how open Phil [Lord] and Chris [Miller] were to improvising and allowing all of their actors to play on what was funniest about the scene. I feel so lucky to be a part of it and I'm terrified I will never have as good of an experience again. Ha! Fingers crossed that's not true."
There's no doubt this movie has put The Master star on the map. she will next be seen in her second Paul Thomas Anderson film, Inherent Vice. That film opens nationwide Jan. 9, 2015.