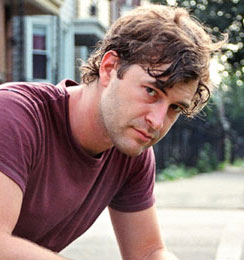 Mark Duplass has taken on the difficult role of Tom, a man dealing with the loss of his brother, in the new indie Your Sister's Sister. 
He spoke to Collider about the part, saying that he "wanted to do something different, as an actor.  I wanted to do something that was 50% different, in particular.  I didn't want to change it drastically.  To me, with this film, I play a character that I've played before, to a certain degree.  He's a down-on-his-luck everyman.  But, I also wanted to play someone who had just had something terrible happen to him, so there's this really dark emotional root to him.  This guy has just lost his brother.  It was the concept of, 'What would it feel like to make a movie that, at its core, is a Shakespearian bed-switching love triangle with hijinks and buffoonery, and all that stuff that Three's Company did so well, but with a real emotional core to it, and that comedy-drama blend?'"
Duplass, who also directs with his brother, Jay (the recent Jeff Who Lives At Home), said that it was difficult to play Tom as someone who had no real relationship with his dead sibling. But he found that he was able to find his way because "the feeling of regret and the feeling of how lost I would be, if I didn't have Jay, was enough to carry me through that, basically.  That was an anchor for me to connect to.  That, in many ways, is the same emotion as playing someone who's lost a brother who was close to them and they miss them.  Someone who's lost a brother who they weren't close enough with and wishes they had been closer to is a similar sadness, I think."
The film also stars Emily Blunt and Rosemarie Dewitt, who Duplass had a blast working with.  "I call it, 'Their movie star shit that I learned.'  I'm a narrative-minded actor.  I'm thinking of the story," he said. "I'm not worried about whether the camera is on the right side of my face, or where the camera is.  I'm just going for the story.  And Rose and Emily, in particular, have this way of employing naturalism, but also knowing how to turn the right way so that the light catches them and the camera is there.  I was like, 'Oh, shit!  This is a whole new ball game.'  I learned a lot from them."
Your Sister's Sister is in theaters now.