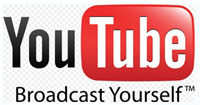 On Monday, Youtube announced that it would become a new online rental destination in competition with websites like Hulu and Netflix.  The company added 3000 titles to its growing media library, all available for rent on the website.
Google's Youtube.com, has been moving towards this effort for a little over a year now.  They have been offering movies for rent or free (with ads), but the titles weren't anything to take a second glance at.  Monday, films such as: Inception, The King's Speech, The Social Network, and Despicable Me all became available for rent on the site.
With Amazon.com recently launching their own version of video rentals as well, studios are finding more ways to get content to their audience.  According to ISuppli Corp, a research company; last year 27 million internet TVs were shipped in the US, a number that is expected to double in size this year.  With phones becoming more powerful and resourceful than ever, content providers are looking beyond the "video store."
Representatives from Youtube said, that new partners would include: NBC Universal, Sony Pictures and Warner Bros (Lionsgate, the Weinstein Co., and several indie companies already have relationships with the company).   While this was a great victory for Google Inc, several studios including Walt Disney Studios, are still reluctant to sign with the website.  They claim that Youtube still doesn't have enough security to combat the issue of online piracy.
The real winners here are the independent film companies.  Linda Nelson, co-founder of Nelson Madison Films and the Indie Rights distribution service tells TheWrap.com: "Streaming services, have allowed small films to make steady money in ways that simply weren't possible under old models."  Youtube has been very flexible with content providers, allowing them to charge whatever price they like (between .99 cents and 29.95.)  Nelson added: "One of the beauties of their system is that they're giving the content owner the ability to change the price on the fly," she said. "If I want to change the price on my horror films to 99 cents on Friday nights, I can do it immediately."
This looks like a large step, from large company in the world of online content.  Will users be willing to pay for content on a site that's generally known for free user created content?
VIA: THE WRAP