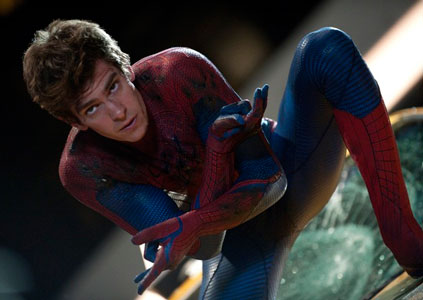 In a recent interview on The Ellen DeGeneres Show, actor Andrew Garfield revealed he doesn't wear anything underneath his Spidey suit. 
The talk show host asked the star of The Amazing Spiderman, "Was there anything under that suit?  It's so skin tight it seems you would see lines of underwear or something like that.  Is there anything under there?  Nothing under there?"  Garfield replied: "It's just me."
The conversation, reported by Yahoo! News, also included Garfield telling DeGeneres that the costume was extremely difficult to work in. 
He said, "It's made of something that is designed to make you irritated."  The 28 year-old said it was hard getting into shape to play the famous superhero.  He said, "It was a life change.  I get frustrated with those Men's Health magazines, [saying]it's like in five minutes you'll be as fit as a fiddle if you just follow those three simple steps and only eat cucumbers.  This was hard work.  I wouldn't be able to do it without someone [helping me.]"
Check out the video!
The film, also starring Emma Stone, Denis Leary and Campbell Scott, opens everywhere on July 3.