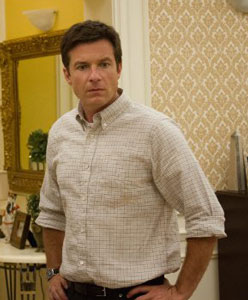 Jason Bateman has been in front of the camera for over 30 years. From the TV series Little House on the Prairie to The Hogan Family, audiences have watched him grow up onscreen. Now that he's 44 years old, the actor is looking for new challenges in his entertainment career.
Bateman is currently at the Toronto Film Festival to promote his directorial debut Bad Words. He talked to The Hollywood Reporter about his new role and why he also took on the challenge of starring in his own film.
The father-of-two shared why the time was right to stretch his creative wings.
He said, "Quite simply, I said to my lit agent, 'Please don't wait for me to have an opening in my acting schedule to pursue the directing stuff. Understand that I'm only acting to create the kind of relevance or capital necessary to get a directing job.' It's really the only reason I've been acting for the last 20 years of this career." 
The film revolves around a cynical middle-aged man who participates in a middle school spelling bee after discovering a loophole in the rules. The black comedy is debuting on Sept. 6 at the Canadian film festival.
When it came to casting the lead role, the Arrested Development star had a very clear vision for the character. That reasoning alone resulted in Bateman casting himself in the title role.
"It was a tricky tone to strike with this film. The character I play is a person who is not a very nice guy, yet you still need to like him. I just wanted to bet on myself for that. I may get it wrong, but if I get it wrong I can only blame me as opposed to feeling helpless and blaming some other actor," revealed the first-time director.
He continued, "The other part was I thought that it would possibly be easier in that I didn't need to direct the lead actor. For better or worse, that actor is going to do every single take the way that I want him to do those takes. It was a bit of a gamble because I'm sort of eliminating one of those vital checks and balances. But it gave me a much stronger ability to control the process behind the camera as well as in front of the camera."
The production also came together rather swiftly once Sean McKittrick's Darko Entertainment stepped in to help finance the film. The company is known for their work in independent film with notable works like Donnie Darko with Jake Gyllenhaal and World's Greatest Dad starring Robin Williams.
Bateman shared why the filmmaking process was so easy because of Darko's involvement.
"Sometimes those people have an agenda that is strictly bottom line. And it kind of rears its ugly head around casting time, around editing time, around marketing time," he said. "You can obviously do a film a disservice by taking any one of those directions away from what the film wants to and should be. Just from people trying to have a big opening and trick people into the seats. Sean was just very clear about what the film was. If I was writing my own check for this, the process would have been exactly the same."
While this is Bateman's first directorial effort, it certainly won't be his last.
He said, "I just cannot wait to do it again. It's hard to think about anything else, to be frank."