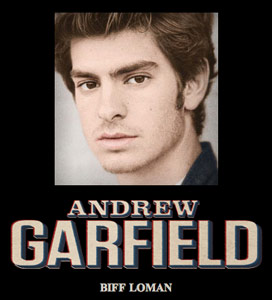 Though Andrew Garfield is best known for his film roles — after all, he's going to be splashed across multiplexes in red and blue tights later this year in The Amazing Spider-Man — he maintains a passion for theater, pointing out, "There's something pure about working on a play, in my experience." 
So while it's no surprise that Garfield is currently appearing in his first Broadway role, it is surprising that his first role would be in one of the most popular plays in American history, Death of a Salesman, starring Philip Seymour Hoffman. 
Garfield talks about his experience working on the play and how he deals with the pressure of celebrity to USA Today — all in an American accent, by the way.
The interviewer notes that when doing the interview Garfield doesn't speak in his natural, English-accented voice.  He explains his reasoning, saying, "No, it's just that talking about it in an English accent doesn't feel right.  Whether I'm in the play or with the cast or in the world of the play in any way, I have to hear my own voice, and I don't want to confuse myself. We're all more sensitive than we realize."
Garfield admits that it is a bit intimidating taking on an iconic role that has previously been played on Broadway by Arthur Kennedy, John Malkovich, and James Farentino.  He explains, "It's really hard to talk about.  Everything is still gestating in my mind. It's a very mysterious process. I'm never going to fully get it — the character or the process. It's impossible to sum up who Biff is or how I relate to him, because he's as complex as any of us." 
Getting into the character's mindset is difficult enough, since the working-class, unsure of himself Biff is a polar opposite of Garfield.  He says, "I'm lucky because many people don't know what they want to do. They end up not being happy — or even more tragically, they never realize they're not happy. I knew I wanted to be passionate about something."  He credits finding himself to his mother, who encouraged him "to try something creative. I tried art but wasn't very good at it; I tried music but didn't have the patience for it. Then I tried acting. I enjoyed it, and I had a great drama teacher in high school. He said, 'You know, you should think about doing this.' That's all I needed, that little bit of encouragement from someone I trusted."
Nonetheless, he still had reservations about his ability, explaining that he finds acting "painful a lot of the time — though it's self-inflicted pain. There are moments when you feel you haven't done a good enough job, or that you don't match up. There's a lot of self-doubt and self-criticism. But there are no victims in this profession, only volunteers."  Still, he notices that as he becomes more popular there is a lot more negativity that comes with it, confessing, "I used to love reading gossip sites.  It's a fun thing to do, unfortunately. It appeals to the laziest part of us. But when you get a little more on the inside, and you see friends on the inside negatively affected by it, you realize you just want to be an actor, nothing else."
So after the immense Spider-Man promotion dies down, what's next for Garfield?  He's as clueless as we are, but for a purpose.  "I can't think about that," he says. "Thinking about it would kill me. I just have to do whatever feels right. And I'm not thinking about anything outside this play right now."
But ultimately he has one bit of advice that he takes to heart in his growing career: "You just have to just keep your head down and work as hard as you can on whatever you're working on. That's all you have control over. The rest is none of your business, I guess — I mean, none of my business."
Death of a Salesman is now in previews at the Barrymore Theatre.  It runs through June 2.