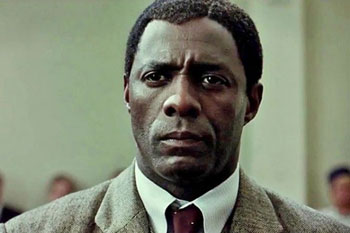 As Hollywood gears up for awards show season, one name keeps coming up as a possible contender for Best Actor this year—Idris Elba. He plays the role of Nelson Mandela in the film Mandela: Long Walk to Freedom.
With credits to his name like a critically-acclaimed role in The Wire and the BBC One mini-series Luther, the 41-year-old actor wanted to prove that he could take on the iconic figure of Mandela. He immersed himself in the character and even spent a night a Robben Island prison, the same place were the anti-apartheid leader spent 18 years behind bars.
He said, "I remember the guy [at the still-working prison] was very nervous about locking me in. I was in there by myself and it was pretty harrowing. I had to really calm the f - - - down. I did have a telephone [and], if I really wanted to get out, I could. But as soon as the guy left, I realized there was no signal."
Even with this high profile role and whispers of an Oscar nomination, don't expect the British star to reveal everything about his private life. He keeps his relationship to makeup artist Naiyana Garth and his 11-year-old daughter from his marriage to Dormowa Sherma out of the press. He and Garth are also expecting their first child together.
"I've always dreamt of a career that always keeps an audience guessing what will happen next. That's what I want to leave as my legacy: 'You never knew what he was going to do next, but whatever it was, it was interesting,'" shared Thor star.
Mandela: Long Walk to Freedom opened on Nov. 29.
Via New York Post