I hadn't heard a thing about Glenn Close's new film, Albert Nobbs, until it screened at the Telluride Film Festival last week.
Adapted from George Moore's novella, Close played the role Off Broadway in 1982 to great reviews and since then, she's wanted to bring it to the big screen.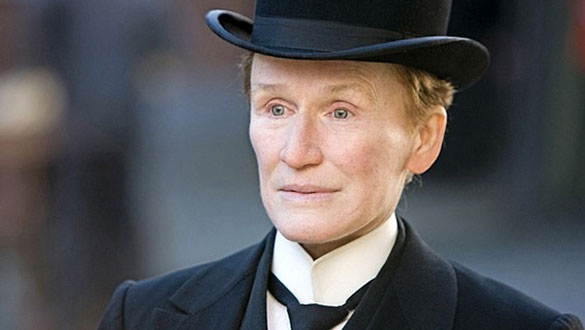 The story is set in 1860's Ireland, where a poverty-stricken woman disguises herself as a man to gain employment as a waiter in a Dublin hotel. Once she settles into her new role, she becomes increasingly confused about her identity, begins to court a maid and eventually shares her secret with a hotel guest.
Directed by Rodrigo Garcia, the cast also includes Brendan Gleeson, Jonathan Rhys Meyers, Janet McTeer, Mia Wasikowska and Aaron Johnson.
Check out the clips below.
Albert (Glenn Close) and Helen (Mia Wasikowska) orders some chocolate
Albert (Glenn Close) talks about opening a shop