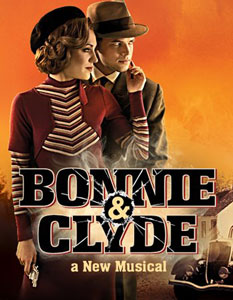 Frank Wildhorn's new musical, Bonnie & Clyde, opened on Broadway last Thursday to some mixed reviews – ok, they were more bad than good. 
NYMag.com say's that the show is "too self-serious to be any fun, too aridly artless to engage the higher faculties, and too slight and minor, in ambition and execution, to earn our Schadenfreude."
Ouch.
Anyway, here is a montage of the show and while it's only a minute long, I'm a little curious to see some more of the show. If I find anything, I'll post it. 
The show stars Laura Osnes, Jeremy Jordan, Melissa van der Schyff and Claybourne Elder.
The video is below.