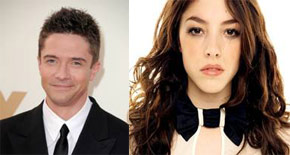 Topher Grace and Olivia Thirlby will co-star in Second Stage Theatre's production of Paul Weitz's world premiere comedy, Lonely, I'm Not, directed by Trip Cullman.
Both Grace and Thirlby have previously worked with writer/director Paul Weitz: Grace starred in Weitz's 2004 romantic comedy, In Good Company, opposite Dennis Quaid and Scarlett Johansson. Thirlby will soon be seen opposite Robert DeNiro and Paul Dano in Weitz's upcoming film, Being Flynn, which opens Friday, March 2.
The story is a comic journey that follows Porter as he meets an ambitious young businesswoman who is overcoming her own obstacles to emotional success. At an age when most people are discovering what they want to do with their lives, Porter has been married and divorced, earned seven figures as a corporate "ninja," and had a nervous breakdown. It's been four years since he's had a job or a date, and he's decided to give life another shot.
 Preview performances are scheduled to begin on Tuesday, April 10 at Second Stage's Tony Kiser Theatre (305 West 43rd street). The production will officially open on Monday, May 7. For tickets or more information, please visit www.2ST.com. Additional casting will be announced shortly.