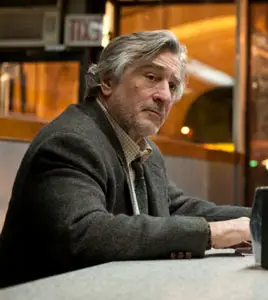 Robert De Niro won the Academy Award for Best Supporting Actor for his performance as the young Vito Corleone in Francis Ford Coppola's The Godfather Part II. Six years later, he won his second Oscar, for Best Actor, for his extraordinary portrayal of Jake La Motta in Martin Scorsese's Raging Bull.
Mr. De Niro has earned four additional Academy Award nominations, for his performances in Martin Scorsese's Taxi Driver; in Michael Cimino's The Deer Hunter; in Penny Marshall's Awakenings; and in Martin Scorsese's Cape Fear.
He launched his prolific motion picture career with Brian De Palma's The Wedding Party in 1969. In 1973, the near-simultaneous release of John Hancock's Bang the Drum Slowly and Martin Scorsese's Mean Streets earned Mr. De Niro worldwide acclaim, including, respectively, the New York Film Critics Circle and National Society of Film Critics awards for his portrayals.
His distinguished body of work also includes performances in Elia Kazan's The Last Tycoon; Bernardo Bertolucci's 1900; Ulu Grosbard's True Confessions and Falling in Love; Sergio Leone's Once Upon a Time in America; Martin Scorsese's The King of Comedy, Goodfellas, Casino, and New York, New York; Terry Gilliam's Brazil; Roland Joffé's The Mission; Brian De Palma's The Untouchables; Alan Parker's Angel Heart; Martin Brest's Midnight Run; David Jones' Jacknife; Martin Ritt's Stanley & Iris; Ron Howard's Backdraft; Michael Caton-Jones' This Boy's Life and City By the Sea; Kenneth Branagh's Mary Shelley's Frankenstein; Michael Mann's Heat; Barry Levinson's Sleepers, Wag the Dog, and What Just Happened; James Mangold's Cop Land; Alfonso Cuarón's Great Expectations; Quentin Tarantino's Jackie Brown; John Frankenheimer's Ronin; Kirk Jones' Everybody's Fine; John Curran's Stone; Neil Burger's Limitless; Rodrigo Cortés' soon-to-be-released Red Lights; and The Comic, to be directed by Sean Penn.
Mr. De Niro takes pride in the development of his production company, Tribeca Productions, and in the Tribeca Film Center, both of which he founded with Jane Rosenthal in 1988; and in the Tribeca Film Festival, which he founded with Ms. Rosenthal and Craig Hatkoff in 2001 as a response to the attacks on the World Trade Center. The Festival was conceived to foster the economic and cultural revitalization of Lower Manhattan through an annual celebration of film, music, and culture; its mission is to promote New York City as a major filmmaking center and to help filmmakers reach the broadest possible audiences.
Tribeca Productions' 1993 feature A Bronx Tale marked Mr. De Niro's directorial debut. He later directed The Good Shepherd, in which he costarred with Matt Damon and Angelina Jolie.
Other films from Tribeca over the years have included Paul and Chris Weitz's About a Boy; Michael Apted's Thunderheart; Barry Primus' Mistress; Irwin Winkler's Night and the City; Paul Mazursky's Faithful; Mario Van Peebles' Panther; Jerry Zaks' Marvin's Room, for which Diane Keaton received an Academy Award nomination; Joel Schumacher's Flawless; Harold Ramis' Analyze This and Analyze That; and Jay Roach's Meet the Parents and Meet the Fockers and Paul Weitz's Little Fockers.
In 1992, Tribeca TV was launched with the acclaimed anthology series Tribeca, for which Laurence Fishburne earned an Emmy Award. Mr. De Niro was one of the executive producers. He has also executive-produced such Tribeca TV projects as the miniseries Witness to the Mob, based on the life of Sammy "The Bull" Gravano and starring Nicholas Turturro for director Thaddeus O'Sullivan; and the 2012 series The 2-2.
Biography/Filmography courtesy of Focus Features. Being Flynn opens March 2nd, 2012