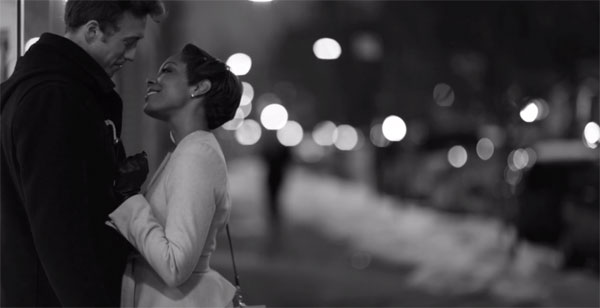 My name is India, and I'm an alcoholic…who wrote a feature screenplay about it.
I produced and starred in a short film version that premiered at the Cannes Film Festival Short Film Corner earlier this year and has just been released to the public. The "Brutally Yours" short tells the story of Kiara, an emotionally unstable law student who tries to resist drinking on the night of her anniversary with her Wall Street boyfriend. If she fails, the consequences could be disastrous.
Like Kiara, I'm a NYU Law graduate. I've been building my entertainment career while practicing law, garnering principal and supporting roles in indie productions before working on both sides of the camera.
I started writing the "Brutally Yours" feature script in January 2014, inspired by the similarity between a romantic relationship and an alcoholic's relationship to alcohol. The script has evolved to also reflect other socially relevant topics that intersect with me personally. Synopsis: An interracial couple struggles with alcoholism, childhood trauma and racial injustice in the criminal justice system.
Inspiration to make a short film came after meeting the writer/director of the Oscar-winning "Whiplash," Damien Chazelle, at New York Film Festival in October 2015. Thankfully, I had already been networking and was able to bring on as cinematographer the developer of "Blue Valentine" Fredric King. Darren Bluestone, who starred on Broadway for three years prior became my co-star. The short film was one step toward making the feature.
I've met so many amazeballs filmmakers since I embarked on that journey – Matthew Rhodes (producer at Bold Films, "Drive"); Ava DuVernay (director, "Selma"); Cary Fukunaga (director, "True Detective"); Alex Orlovsky (producer, "The Place Beyond the Pines"); from the confines of a front row "Mississippi Grind" Q&A, writer/directors Anna Boden & Ryan Fleck; and Darius Marder (co-writer of "The Place Beyond the Pines"), who gave me great script advice.
Already, Rosalyn Coleman Williams ("It's a Funny Kind of Story") and Sue Costello ("The Fighter") are attached to be among the cast members. Some of the finest crew have expressed interest in the film, including cinematographer Andrij Parekh ("The Zookeeper's Wife") and costume designer Erin Benach ("Lost River").
After receiving encouragement to direct the feature myself, I recently wrote, directed, produced and starred in the short film "Love-locked," also adapted from my "Brutally Yours" feature script and focusing on the mass incarceration elements. "Love-locked" hasn't released yet, but you can watch the 12-minute "Brutally Yours" film at: http://www.reelhouse.org/india-autry/brutally-yours.
Written by India Autry