Anne Hathaway, Best Supporting Actress winner for Les Miserables

Oscar speech: "It came true. Thank you so much to the Academy for this and for nominating me with Helen Hunt, Jacki Weaver, Amy Adams and Sally Field. I look up to you all so much and it's just been such an honor. Thank you. There are so many people whose generosity and support is the reason I'm standing here right now. I must thank Hugh Jackman. Hugh, you're the best. The cast, the crew, especially Simon Hayes and the sound wizards. Congratulations on tonight, you guys.
The creative team behind Les Miserables, Cameron Mackintosh, Tom Hooper, from Working Title Eric Fellner, Tim Bevan, Debra Hayward. And from Universal, Ron Meyer, Donna Langley, and Adam Fogelson. Thank you guys for your faith and thank you for this opportunity. I have to thank my team—led by the lionhearted Suzan Bymel. Josh Lieberman, Mick Sullivan, Maha Dakhil… Please say I just said everyone. Josh Lieberman again, just to be safe. Stephen Huvane, Jason Sloane and special contributions by Frank Selvaggi and Kerry Wagner.
I want to thank my friends, especially the ones who are cheering from Crosby Street tonight. My family, who I'm so blessed to be a part of. My husband. By far and away, the greatest moment of my life is the one when you walked into it. I love you so much. And thank you for this. Here's hoping that someday in the not too distant future the misfortunes of Fantine will only be found in stories and never in real life. Thank you." Read more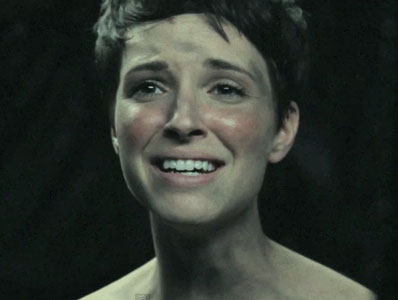 In the case of Emma Fitzpatrick, she's only teasing Anne Hathaway because she likes her.
Fitzpatrick stars in a clever "Oscar bait" parody video of Hathaway's performance of 'I Dreamed a Dream' from the Oscar-nominated film adaptation of Les Miserables.  However, just because she is lampooning Hathaway's performance doesn't mean she is trying to belittle it.  The previously little-known actress tells The Hollywood Reporter, "I thought she did a great job. I actually wept through her whole song. I don't think there's any questions about her talent or her skill or what she was willing to give to that role." Read more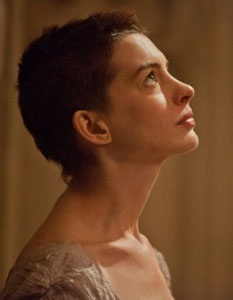 There are many memorable songs in Les Misérables, but perhaps none are as beloved as "I Dreamed a Dream," which is sung by Fantine.  Over the last few decades it has been recorded by everyone from Neil Diamond to Aretha Franklin, and turned middle-aged Scottish singer Susan Boyle into a household name with a single television performance.  So it's hard to blame Anne Hathaway, who plays Fantine in the film adaptation, for feeling nervous when she had to perform "I Dreamed a Dream" for the film — especially since all of the vocals for the movie were recorded live with only a piano accompaniment coming through her earpiece. Read more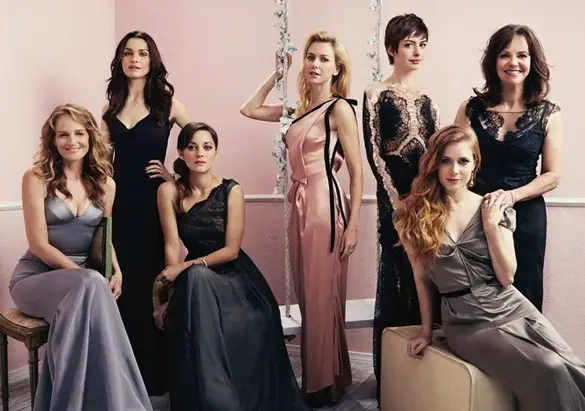 One of my very favorite things that The Hollywood Reporter does are the annual actor roundtables. They get a group of actors, ask them questions and just let them go to town. Some of the answers are smart, some serious and some are just downright funny but all are incredibly entertaining.
In this hour long, uncensored video, THR got Anne Hathaway, Amy Adams, Sally Field, Naomi Watts, Rachel Weisz, Helen Hunt and Marion Cotillard to talk in-depth about their careers and it's absolutely wonderful.
Amy Adams mentions that she thought about quitting acting, Naomi Watts says she operates out of fear and Helen Hunt talks about her nude scenes in The Sessions.
This is well worth your time!  Read more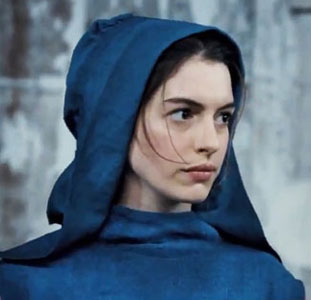 Anne Hathaway faced many challenges on her journey to play Fantine in Les Miserables—fighting for the role, proving her singing chops, and near starvation to slim down for the part.
Hathaway originally auditioned for the role by showing she could hit the high E-flat in her signature song, "I Dreamed a Dream."  Usually more humble, the actress stated, "I knew that someone was going to have to go in there and do something pretty special to unseat me," she said in an interview with Vogue.  "Sometimes you leave a room and you feel like maybe you've left the door open a crack.  This time, I knew that I had slammed it shut behind me."
She prepared for the role by working with a voice teacher and "singing all the time because I knew I'd be singing twelve hours a day on set, and I wanted to be ready—not that it takes much to get me singing." Read more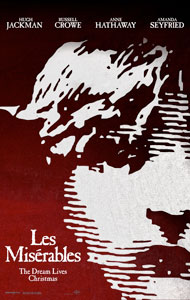 Here is the extended first look of Les Misérables, will now hit theaters on Christmas Day. It features behind the scenes looks and interviews with the cast Hugh Jackman, Russell Crowe, Anne Hathaway, Amanda Seyfried and Eddie Redmayne and Director Tom Hooper.
One of the coolest parts is watching the actors sing live to a piano player off screen.
Check it out below!  Read more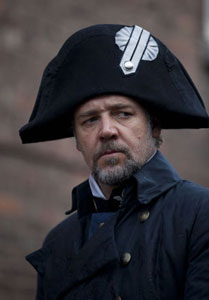 One of the perks of being a big star is not having to audition for parts.  After all, if an actor is well-known enough, his or her reputation and ability precedes him or her.  But that wasn't the case for the next big movie musical, Les Miserables.  Despite stars like Russell Crowe, Hugh Jackman, and Anne Hathaway starring in the film, director Tom Hooper made all of them audition for their roles. 
Hooper explains how important it was for everyone to audition.  He says, "For a musical, everyone accepted that they had to audition for the roles because of the particular need to both sing and act. So I had someone like Russell Crowe auditioning, and I don't think Russell has had to audition for a movie for many years."  Since the singing was done live on the set, the actors had to be able to do it without studio magic, making the auditions even more important. Read more
Anne Hathaway was honored with an Academy Award® nomination for Best Actress for her performance in Jonathan Demme's critically acclaimed drama Rachel Getting Married. For her work in the film, Hathaway also earned Golden Globe, Independent Spirit Award and Screen Actors Guild (SAG) Award® nominations, and also won the National Board of Review, Chicago Film Critics Association, and Critics' Choice Awards for Best Actress. She more recently received another Golden Globe nomination, for Best Actress in a Motion Picture – Comedy or Musical, for her role in Edward Zwick's Love and Other Drugs, opposite Jake Gyllenhaal.
Later this year, Hathaway stars as Fantine in Tom Hooper's much-anticipated feature film adaptation of the beloved musical Les Misérables, opening in December.
Hathaway made an auspicious feature film debut with a starring role in Garry Marshall's 2001 hit comedy The Princess Diaries, and reprised her role in The Princess Diaries 2: Royal Engagement. Her early film credits also include Douglas McGrath's screen rendition of Charles Dickens' Nicholas Nickleby and the title role in Ella Enchanted. Read more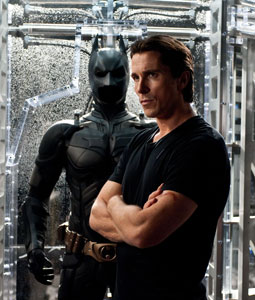 It's hard to accept that The Dark Knight Rises will likely be the last time we'll see Christian Bale as Batman (though as Sean Connery would say, "Never say never").  On that note, Bale took the time to express his thoughts on the last chapter of Christopher Nolan's Dark Knight trilogy and the series as a whole, as well as speaking about his feelings about leaving the character behind after three films.
Bale sums up the character arc of Bruce Wayne/Batman in the three films as, "In Batman Begins, you see the tragedy and the pain that motivates this angry young man, who feels useless and is searching for a path—who wants to find out who he is and what he can become. Then in The Dark Knight, he's discovered that path.  He is useful; he is doing what he imagines is the best thing for him to be doing in his life.  Now, we are eight years on and he has lost the one thing that gave him a purpose…until he is forced to deal with a new threat to the city and to himself." Read more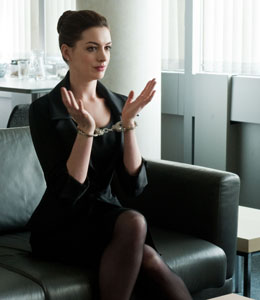 Anne Hathaway certainly has faced some challenges playing the iconic Catwoman in Christopher Nolan's latest The Dark Knight Rises.
But the actress passed the test, by rocking the Catsuit and doing many of her own stunts.  The first obstacle was actually getting the part.  Hathaway wasn't sure if she had gotten the role initially.  She told The New York Daily News, "I auditioned on a Thursday and I believe the following Tuesday my manager called and just said, 'Meeeoooww.'"
The next challenge? Wearing the Catsuit made out of polyurethane-coated black Spandex.  "It was very funny in fittings," Hathaway said.  "We could make certain choices, fit certain things, and then I would have to start slinking about to make sure it could do things that we needed it to do.  It was way more fun to wear than the Batsuit." Read more