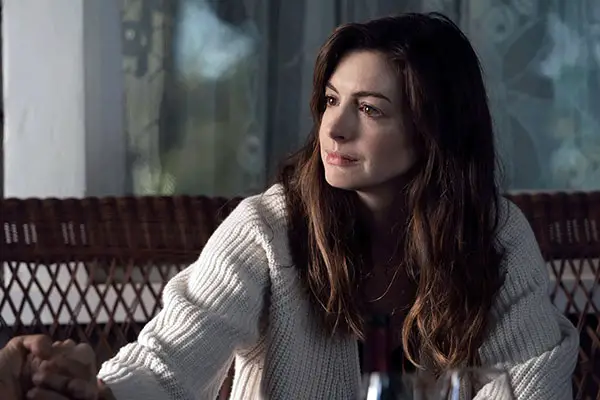 "I remember when I was younger, an actor saying, 'You can only ever really play yourself.' And I thought, 'I don't know that I fully agree with that. I'm trying to play as many different characters as I can.'" – Anne Hathaway
Variety recently hosted an "Actors on Actors" conversation between Academy Award-winning actress Anne Hathaway and Emmy Award-winning actor Jeremy Strong, who starred together in the 2019 film Serenity and the 2022 film Armageddon Time. While speaking, Hathaway shared a story about a scene more than 20 years in the making that appeared in one of her recent projects.
One of the scenes in the Apple TV+ series WeCrashed, which stars Hathaway as one-half of the real-life couple behind the disastrous company WeWork,  features Hathaway finally utilizing a scene idea she had during her very first acting job that she has not previously been able to work into a performance. She reveals:
My very first job was on a TV show called Get Real. It was my senior year of high school. I was away from home. I was shooting in Los Angeles. I was 16. There were just a lot of feelings that I had that I didn't really understand. I would have to go to set and feel really nervous and I would start to cry, but I would know that I couldn't cry my makeup off. So I would take a tissue and fold it in half and I would cry into the tissue. After doing this a certain number of times, I remember thinking to myself, "This would be great to see on camera." And I have tried to get that moment into a film on several occasions, and everybody always looked at me like I had three heads when I would suggest it. She has to cry without crying off her makeup, which is something that I think a lot of women understand. I just had a feeling that it would look really strong on camera to watch the tears just saturate the tissue but not fall.
Reflecting on that moment, Hathaway returns to a common adage about acting — that actors are truly only capable of playing versions of themselves — and shares her thoughts on that assertion. She says, "I remember when I was younger, an actor saying, 'You can only ever really play yourself.' And I thought, 'I don't know that I fully agree with that. I'm trying to play as many different characters as I can.' I don't necessarily work this way anymore, but in the beginning part of my career, I did connect to my characters through trauma. I would kind of search out parts in myself where I was broken and parts where they were broken and I would try to find my way into them through that way."