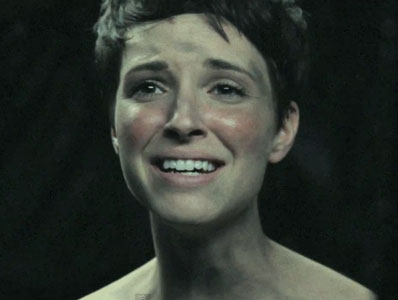 In the case of Emma Fitzpatrick, she's only teasing Anne Hathaway because she likes her.
Fitzpatrick stars in a clever "Oscar bait" parody video of Hathaway's performance of 'I Dreamed a Dream' from the Oscar-nominated film adaptation of Les Miserables.  However, just because she is lampooning Hathaway's performance doesn't mean she is trying to belittle it.  The previously little-known actress tells The Hollywood Reporter, "I thought she did a great job. I actually wept through her whole song. I don't think there's any questions about her talent or her skill or what she was willing to give to that role."
The video has become a favorite not just because of its lyrics, but because Fitzpatrick sings them nearly as impressively as Hathaway sang hers in the film.  However, Fitzpatrick has been a classically trained singer since she was 14 and took on the role despite being cast shortly before the clip was shot.  She reveals, "I've been a huge fan of this show and this music for a long time, so I knew the music really well. We threw it together really quickly. By the time I agreed to do it and got the lyrics to the song, we were basically shooting the next day."
Like Hathaway's version, Fitzpatrick's is entirely from a single take — which happened to be the eighth and final take of the shoot.  Fitzpatrick admits by that final take she had been nearly pushed to her limits, confessing, "It's a vocally taxing song, so by the eighth take, I was a little exhausted."
But the performance was worth it — Fitzpatrick's manager has since been contacted about her as the video approaches one million views.  Previously she has appeared in  smaller roles in In Time and The Social Network, and though she recently starred in The Collection this video has exposed her in ways those film appearances could not (especially since those roles did not utilize her vocal talents).  Naturally, Fitzpatrick wonders most of all about one particular person's opinion of the video: Anne Hathaway's.
She says, "That would be so cool if she saw it. It seems to me that she has a pretty good sense of humor — she's been know to parody fellow actresses herself — so I would think that she probably gets it."